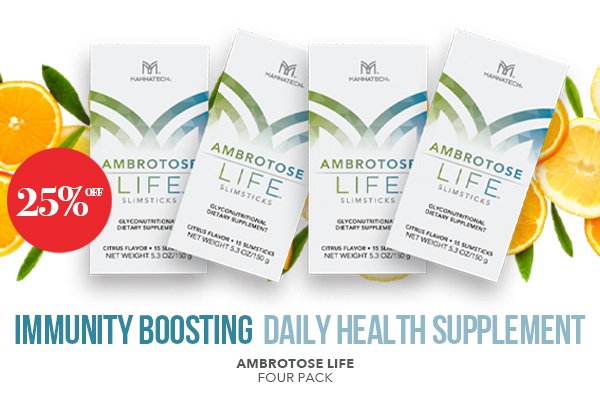 AMBROTOSE LIFE – 25% Off for a limited time!
Supporting a healthy natural immune system with Ambrotose LIFE
A healthy life starts from within and relies on your cells properly communicating with each other. When your cells communicate well, your internal body systems function better. Aging, stress and unhealthy eating can impair that ability. Ambrotose LIFE provides strong support for cell-to-cell communication, which leads to better health and wellness.*
We believe that Ambrotose LIFE powder is the most important nutritional supplement for your health. It supports your body's cell-to-cell communication, boosts your immune system, supports improved cognitive function and promotes gastrointestinal health.*
We believe this non-GMO, low glycaemic and gluten-free nutritional supplement does more for your health than any other combination of products ever developed – a simple all-in-one solution.
Scientific Proof
Over the past 20 years, Mannatech has invested millions of dollars into the research and validation of developing Ambrotose products. Numerous studies have been published in peer-reviewed journals about Ambrotose powders, showing Ambrotose can:
Support cellular communication.*
Improve cognitive function, concentration and memory.*
Improve moods and decrease irritability.*
Support digestive function.*
Support immune function .*
Promote gastrointestinal health.*
What's in Ambrotose LIFE?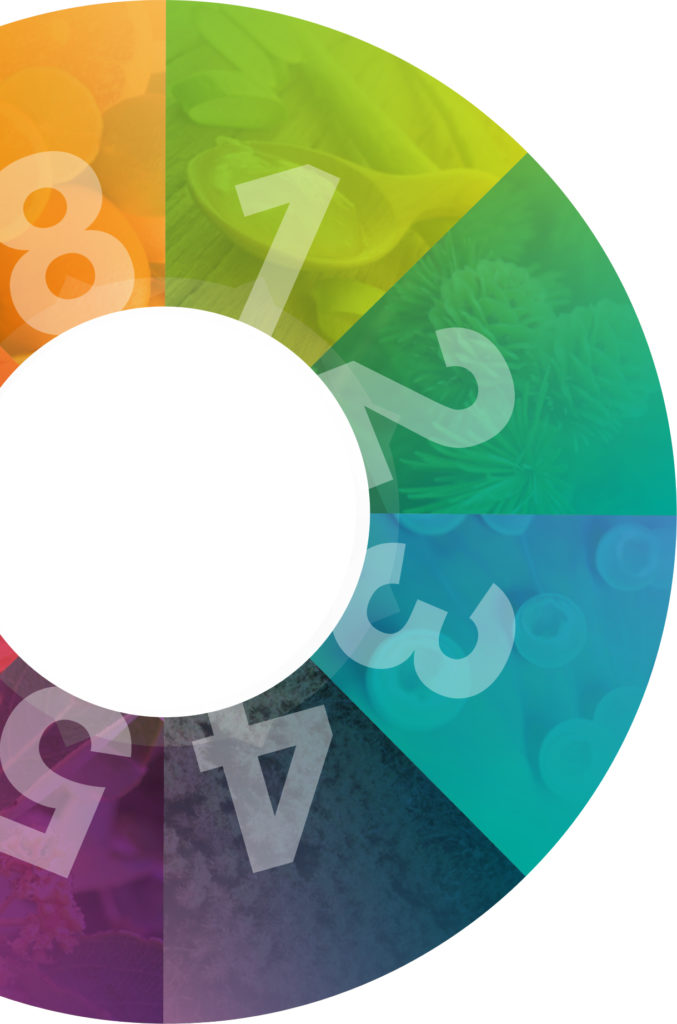 Manapol® Aloe Vera Extract
Manapol contains mannose-rich polysaccharides, also known as Acemannan, a key glyconutrient sugar believed to account for many of the benefits of aloe vera gel.* Ambrotose LIFE has twice as much Manapol as its predecessor, Advanced Ambrotose™.Mannatech's Manapol contains the highest concentration of acemannan found anywhere. Acemannan is a potent polysaccharide found in the inner gel of the aloe vera leaf. It is what gives aloe its ability to support cell-to-cell communication in the body.
AmbroGuard™ Arabinogalactan
(sourced from larch trees) – Research indicates the larch arabinogalactan in Ambrotose powders supports the proliferation of the beneficial bacteria Lactobacillus Plantarum found in the colon.*
Glycosamine HCI
A plant-sourced amino sugar the body uses in conjunction with other key saccharides found in Ambrotose LIFE that supports cellular communication and immune function.
Gum Ghatti
(sourced from the sap of the Anogeissus latifolia tree) – Supports cell-to-cell communication and the immune system by providing Glyconutrients.*
Gum Tragacanth
(sourced from the dried sap of the flowering plant Astragalus gummifer) – Supports cell-to-cell communication and the immune system by providing Glyconutrients.*
Rice Bran Fibre
A source of nutrition, glycans and fibre.
Wakame
Wakame (pronounced whakam-ie) is an edible seaweed sourced from Tasmania – containing fucoidans (pronounced few-coid-ans), which have been shown to have immunomodulatory effects in controlled studies of human subjects.*
Modified Citrus Pectin with Sodium Alginate
The most scientifically studied MCP on the market. Provides an excellent source of pectin and sodium alginate (from kelp).
For a Limited Time,
Buy Ambrotose Life Value Pack and Receive 25% Off!
PLUS BONUS 64 PV on all Value Packs!
Available: 1st May – 30th July 2020, or while stocks last.
4 Boxes Ambrotose LIFE Sachet Packs
Associate Price: $417.00 AUD / $450.00 NZ SING
PV: 400 (BONUS 64 PV)
Ambrotose LIFE Product Training

Join our Facebook competition as Mannatech celebrates life.
Don't miss your chance to win an awesome Ambrotose life Giftbag valued at $289 AUD/ $305 NZ/ $305 SG
Competition Terms and conditions