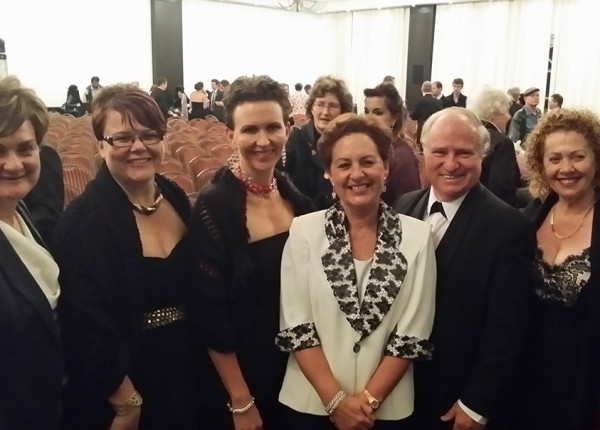 Cape Town Super Regional experience
By Bronze Presidential Director Chris Gregory
A team of leaders from Australasia visited Cape Town, South Africa in November to experience a Super Regional event, the South African way!  The trip was a mix of business and pleasure as these leaders were keen to see exactly how The Three Point Plan works in South Africa, where it originated.
The event started on a Thursday night with an opportunity meeting, and rolled into Friday with an exclusive leaders' breakfast and high achievers meeting at the Avontuur Estate, home of fine wines and fast horses, which nestles against the Helderberg between Stellenbosch and Somerset West.
Best of the Best Training
The breakfast was followed by the Best of the Best training on Friday evening. South African Presidentials, including:
South African Silver Presidential JP Koster encouraged people to serve their product users the same as business builders, and not to forget the importance of meetings, home meetings, regular presentations etc.;
South African Silver Presidential Director Vintzent van der Linde reminded Executive Directors to be careful with their finances. He advised to work within your income, not your 'ifcome' and…don't quit your job too early;
South African Platinum Presidential Louis van der Linde spoke about the need for courage. Without courage, he said, people have no chance to persevere, to succeed, and to be great. Courage is whatever we have to do to bring it to pass.
South African Platinum Presidential Leonie van der Linde gave 5 important actions.
1. Learning.
2. Performing.
3. Leading.
4. Developing leaders.
5. Developing leaders who develop leaders.
If we don't get to Level 5 our business will stop!!!
The Super Regional
Then things really started to get exciting with the Super Regional event for 580 associates and prospects all day Saturday. The South Africa leaders talked about the important issues in having a successful business, favourite products, and recognition.
I really appreciated the practical 'how to's that were shared with us as this is what we teach in our team.
It's about duplication, and if you can't duplicate your leadership you don't have a growing business. Many sign ups may appear to mean growth, but that is short lived. As leaders we need to duplicate ourselves and help our leaders duplicate. That means standing back and letting new leaders take the stage otherwise you will end up with a whole lot of followers, you will be doing all the work, and people will fall away.
The South Africans stressed the need, as leaders, to respect leaders below us and not to usurp their authority. In addition, they shared how the correct use of the Three Point Plan Counselling Sheets, combined with the Tool of the Month program, will grow leaders.
When the whole system is working together, you can almost guarantee growth!
We were reminded how Mannatech South Africa has been building the Three Point Plan in their teams up for at least 2 years. Prior to this they were struggling because too many people were each wanting to be king, the top pin, but as they put their own aspirations aside, everyone was a winner. Unity reigned.
When the South Africans set up the Three Point Plan system and followed it to the letter to help leaders to produce leaders, they saw growth.
Mannatech Australasia can't do all they are doing right now, but we can commence or continue using Three Point Plan, to see growth.
Key learnings
What were some of the key learnings that our leaders took away from their Cape Town experience?
"My husband Justin and Executive Director Sarah Yeo feel so empowered and what we have learnt and observed from the South Africans will have an enormous influence on the way that we will build and manage our business henceforth.  It was by far the best trip ever arranged by corporate for us. Thank you Mannatech!" Bronze Presidential Director Lydia Leong.
"Attending the Super Regional in Capetown, South Africa was a highlight in my life. The success the South Africans have shown over the last 3 years with their 3 point plan is inspiring. To be there & see it in action was absolutely incredible. Their attitudes are fantastic – so positive – so determined – so focussed – so full of energy. This system is working for them & they are going from strength to strength – we can do this Australia!!" Bronze Presidential Director, Karen Denniss.
"It was so amazing to be in a room full of like minded people at the Super Regional but not only that, to be apart of the energy that comes from successful people and they are all so young.  This reinforced the fact that we are doing the right thing following the Three Point Plan in Australasia because the proof is in the volume of new Regional Directors and National Directors that crossed the stage in Cape Town.  I know I have come back with more excitement and new plans for my team. Thank you Mannatech for the opportunity to be apart of the South African trip I know I will be going back over and taking my Team with me.
National Director, Deidre Jackson
"I observed three key things. Firstly, how young all the Associates were in Cape Town.  Secondly, the speakers were of amazing quality. This is because they are always encouraged to speak from the very beginning of their sign up as an Associate with Mannatech. Can you imagine that, from the moment you join Mannatech? They expressed things like: 'The greatest gift you can give your people is example,' meaning we, as Leaders, need to figure out what we expect. We then need to show our team.  We also need to ask questions rather than give advice all the time.  This way we can work out where people are wanting to head and help them get there," National Director Kate Warby
"In a nutshell, the energy and commitment of SA associates is what stood out for me. Everyone is extremely professional in how they dress, speak and act at all times. Total unity exists across all teams.  They follow the three point plan diligently and religiously and the results are showing.  Everything that they do is done with honour and respect for the company, industry and their team. My take home is to be more diligent with my time and who can share it with me. Likewise, I need to continually earn the right to spend time with my upline leaders through activity and commitment," Executive Director, Ian Scott.
What do you think of the Three Point Plan? Share your opinion in the comments section below.
© 2014 Mannatech, Incorporated. All rights reserved.
Mannatech, Stylised M Design, M5M, Mission 5 Million and Real Food Technology are trademarks of Mannatech, Incorporated.