Celebrate Magazine Launch
Following on from the hugely successful Mannatech Australasian Conference 2020, which was held at the Gold Coast 20-23rd February 2020, we have some exciting news!
The 2020 Celebrate Magazine is out! This time it's gone digital and you can download your own copy today! While you have been working hard on your incentive, we have interviewed our Gala Night Award Winners with key tips and takeaways from their year that was!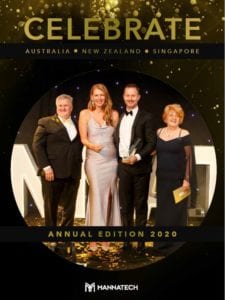 Keynote Speakers & Trainers:
Hosted by Jenny Messenger, Executive Director, the conference had many key speakers. We were lucky to have Chris Simons, Regional President EMEAA, Central and South America, who traveled from the USA.
Dr Adam Fraser – who gave us an in-depth insight into learnings that are gained only by being in uncomfortable situations. A few pearls of wisdom there. Yossi Ghinsberg – who told of his amazing story of survival in the Amazon Jungle and how his learnings translate into our modern-day world.
We also heard from so many wonderful Presidential Directors and Associates from the field – a huge thank you again to Associate of the Year – James Hannon, Naomi Enevoldson, Paula Khouri, Browyn and Daryl Sheraton-Gray, Rachel Davy, Ocea Ebel, Gaelene Wallace.
We were also treated to training sessions from Sam Lees, Social Media Trainer to the Direct Selling Industry on social media basics, as well as Sandy Cantin, Consultant and go-getter, on how to provide an amazing customer experience.
We have released a photo slide show of some of the Conference fun. From the packed plenary sessions through to the Friday Fun Night, and the Saturday Gala Awards Night, there were lots of memories from such an amazing event!
We received an excellent M5M update with a virtual update from Sarah Bowen Louthem, Head of M5M Foundation. View her update on M5M here.
Throughout the conference, attendees were treated to many product mini-commercials. These are available to view on our YouTube channel.
Congratulations again on all our Award Winners for 2019!
Make sure you are part of the fun for the 2020 Australasian Conference! Details released soon!