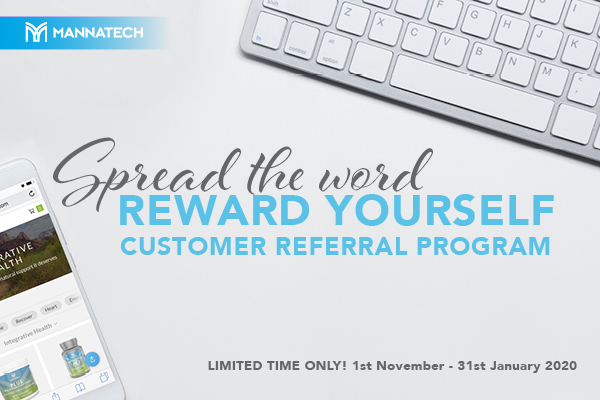 Customer Referral Program
The Australasian Market has been chosen to trial the FIRST EVER Customer Referral Program available to Mannatech Customers!
 Take advantage of this promotion for a limited time!
As a Mannatech Customer, you can earn between 10 – 15 Referral Bonus Points (RBP's)! All you need to do is tell your friends about Mannatech. Every friend that you introduce, that orders 75PV or more, (excluding shipping), received between 10-15 RBP's. Easy!

As a Customer, you have the opportunity to refer a friend as a NEW Customer. Your referred NEW Customer places an order of 75PV (minimum) and YOU would earn 10 Referral Bonus Points (RBP's).
Its that simple!! No way!!

What are Referral Bonus Points?
Referral Bonus Points (RBP's) are points that you can earn, that are specific to this promotion. They can be earned and are stored in the same bucket as Loyalty Points. The same rules apply to RBP's, as for Loyalty Points, except that you can redeem them straight away.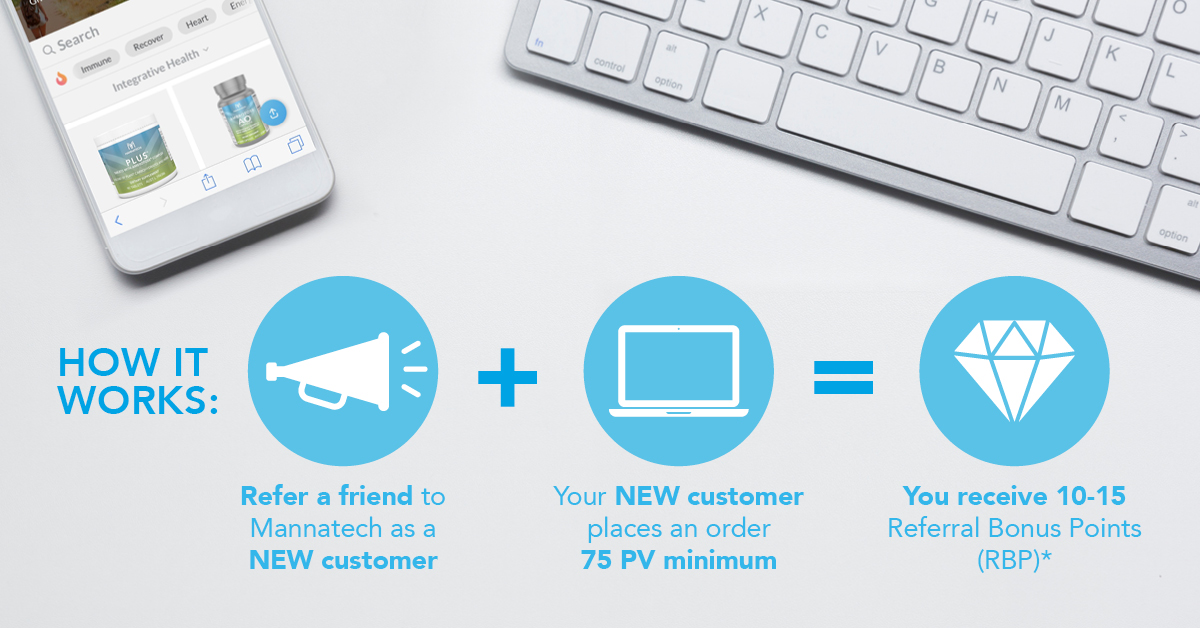 How does this work?
1. As a Customer, find a friend that is interested in Mannatech.
2. If your friend places a customer order, ensure you tell your Enroller, as your Enroller will need to take the order.
3. When your referred friend (now a NEW Customer) orders between:
            75-99 PV: You get 10 Referral Bonus Points
            100+ PV:  You get 15 Referral Bonus Points
4. To receive your RBP's, ensure your Enroller completes a Tracking sheet, and emails it to Customer Service. Download tracker sheet now
5. Customer Service will then check and validate the order.
6. You will earn between 10-15 Referral Bonus Points!!! These will be manually loaded to your customer account (weekly). You can use them immediately.
How do you redeem Referral Bonus Points?
Referral Bonus Points can be redeemed by placing a Loyalty Order.
Loyalty orders can be placed online and can be attached to your next automatic order to save a separate shipping cost. Loyalty Points cannot be redeemed for shipping costs.
Download your tracker sheet today to get started