Perth Super Regionals Event
Regional Director, James Strider Shares His Experience
"On Saturday 4th of June we gathered at the Owen Centre in Perth for the second Super Regional in Perth for 2016. It was wonderful having Sinead over from Head Office to organise the event and I was honoured to be taking the role of MC for the first time.
"Guest speaker for this educational and informative day was Platinum Presidential Director, Rodney Gilchrist, bringing his unique and highly entertaining blend of metaphorical and factual coaching style to the room. His main areas of focus were on the subjects of the importance of meetings, the road to Presidential Director with the new Mannatech and how to grow your business.
"For 45+ minutes we were all treated to an outstanding and truly inspirational exhibition of Rodney's talent as a speaker, where his background in giving sermons as a Pastor came to the fore, his language rich with allegory, parables and stories of his journey with Mannatech over the past 18 years. With an emphasis on practical solutions, Rodney shared his knowledge on how influence through leadership is key to reaching Presidential Director and beyond. He was very generous with his information, taking us through how he runs his XFM meetings, as well as the mindset and materials he utilises to benefit his world class team in Queensland and beyond.
"Next up was National Director, Liana Virasinghe of Team Infinity, giving us a detailed update on all things Global MannaFest 2016. Over 15 minutes we were taken through the highlights of this year's convention in Dallas, with Liana sharing words of wisdom from the 1 day training given by networking guru, Eric Worre, the unveiling of the new Mannatech logo and how inspirational it was to see footage of the M5M initiative having such a positive impact on children in need in Guatemala.
"Bronze Presidential Director, David Rossiter then took centre stage delivering in his usual considered, well planned and thought out presentation style. His main focus was on how to develop Regional Directors within your team by implementing step by step strategies that are replicable. Based on sharing information and inviting prospects, his no nonsense approach was greatly appreciated by all those who were in attendance.
"Sharing her heart warming and touching story, National Director, Liz Chamberlain stood before us next and not a dry eye was left in the room by the time she finished! The power of imparting our Mannatech journey to others was truly evident as she shared her belief in the 3 P's of Passion, Purpose and Persistance.
"Regional Director, Urs Hugi next shared his journey with Mannatech and how it has helped transform the wealth, health and well-being of not only himself, but also his family and friends.
"Celebrating achievement is one of the wonderful aspects of Mannatech culture, so it was delightful to see Sinead hand out the new pins to those who had reached new ranks, and last quarter's top enrollers getting a certificate of achievement as well.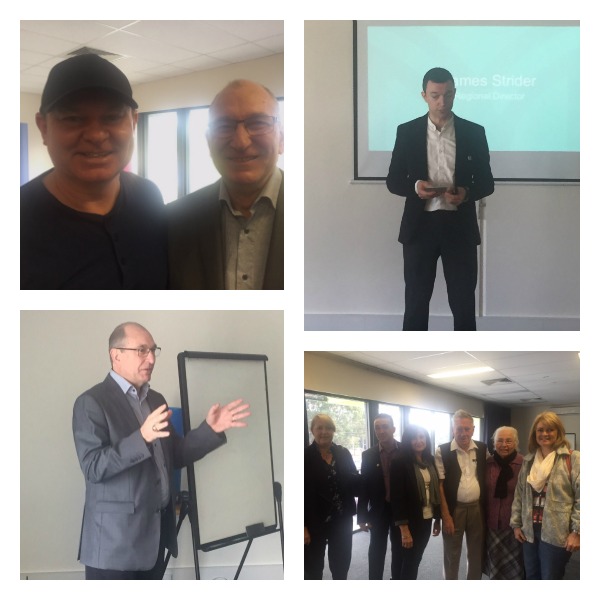 "After a lunch break we dived back into the proceedings with a master class in XFM hosting from Liana and Sinead, with the ever ready Rodney on hand to share his priceless gems of knowledge on the subject. What came through strongest from the discussion was a need to create a buzz around these events by limiting numbers, making sure that those attending have followed through on a number of tasks (watching clips and reading articles) and that everyone clearly knows what it is they are attending.
"Sinead then took us through the new branding and materials available to us with the Mannatech makeover. Touching briefly on the new app, Mannatech+ and the companies focus on social, mobile and global technologies, we all were left feeling that very exciting times are ahead!
"Wrapping up the day's events was a Q&A panel headed by Bronze Presidential Director, Noelene & David Rossiter along with Rod Gilchrist. The main topic of discussion was how to build a strong team, the importance of leadership and what materials/methods could be used to help us achieve this.
"Entertaining, informative and most of all passionate are the words that come to mind when summing up my experience of this wonderful day. I'm sure I speak for all who attended in saying a huge thank you to Rod and his lovely wife Gold Presidential Director, Cheryl Gilchrist for making the long journey from Queensland, the other presenters and guests who came from all over Western Australia, and of course former Irish dance champion (or did she make that up?) Sinead for making the whole day seem like such a breeze."
Regional Director, James Strider