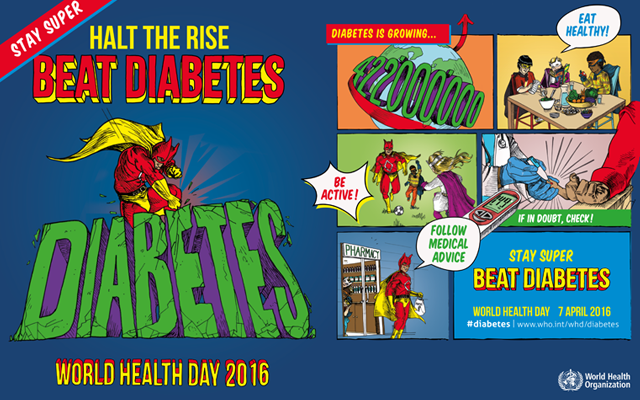 Mannatech Celebrates World Health Day
Every year, on April 7th the World Health Organisation selects a priority area of global public health concern as the theme for World Health Day. Part of Mannatech's mission and vision is to improve global public health so it comes as no surprise that we are firm supporters of World Health Day!
The theme for World Health Day 2016 will be diabetes. Diabetes is a noncommunicable disease (NCD) directly impacting millions of people of globally, mostly in low- and middle-income countries.
Diabetes is a chronic, metabolic disease characterised by elevated levels of blood glucose which may over time lead to serious damage to the heart, blood vessels, eyes, kidneys, and nerves. The prevalence of diabetes has been steadily increasing in the past few decades, in particular in low- and middle-income countries. Knowledge exists to reverse this trend through targeted prevention and appropriate care.
One key diabetes preventative measure, as well as a way of managing Type 2 diabetes is to eat a balanced, healthy and nutritious diet. This doesn't mean cutting out the cheeky foods we love, it just means being mindful of the portions of what we eat and making sure our body is getting enough of what it needs, and less of what it doesn't. Supplementation, along with a balanced diet is also a great way of giving your body a boost of nutrition!
How does Mannatech support World Health Day?
We don't just support it one day of the year we support it EVERY day of the year! Mannatech's whole purpose is structured around providing nutrition to people around the world who need it most.
Our mission is to fight global malnutrition by nourishing the world with Real Food Technology supplementation while empowering and rewarding the lives of those who champion our cause. Our vision is to impact the global epidemic of childhood malnutrition by linking five million consumers of Real Food Technology supplementation with five million children in need.
To learn more about Mannatech's cause and the products that are battling global malnutrition and supporting World Health Day visit au.mannatech.com. For more information on World Health Day click here.
Happy World Health Day from Mannatech