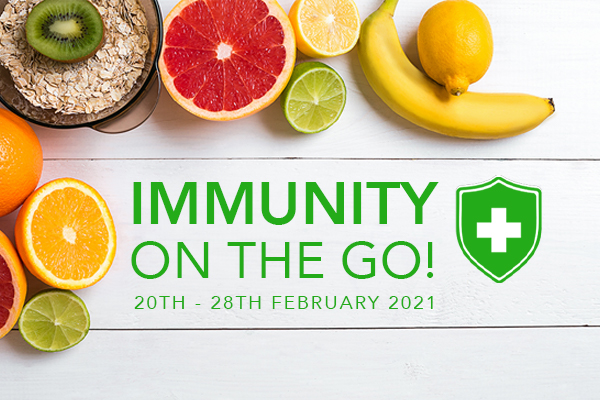 Immune Support On The Go…..
NOW EXTENDED to End of March due to popular demand!
Our bodies are living, breathing machines that require good quality maintenance, support, and fuel. Fortifying your immune system to be as impenetrable as possible is vital in ensuring your body stays fighting fit! An extra boost never goes astray, and sometimes a bit of rocket fuel is all it takes to get your immune system surging towards optimum health.
To give you the kick you need, our "Immune Support on the Go" February promotion with Mannaboom and ImmunoStart will help power your health revolution!
MannaBoom
So what is MannaBOOM, and what are the benefits?
Featuring a proprietary herbal and glyconutrient blend with plant and food-sourced vitamins, the product comes packaged in super convenient slimsticks to support healthy immune function for any lifestyle.
Each Sachet:
Boosts your immune system with a hefty serving of glyconutrients
Provides a blast of support with our exclusive Manapol® powder and nutrient-rich Asian superfood, Wakame
Gives serious defence against free radicals with naturally sourced antioxidants from Acerola and Wild Bush Plum
Promotes gastrointestinal health
Supports cell-to-cell communication through a blend of specific plant saccharides including glyconutrients.
Contains more Manapol than a serving of Ambrotose® powder
MannaBoom delivers an incredible force field to your immune defence. With just 1 sachet you may provide your body with immune system support you can feel!
ImmunoSTART
Immuno-START tablets are formulated with the most powerful natural ingredients available and contain a balanced blend of beneficial nutrients that work to maintain and support the body's natural immune system. It contains:
Colostrum, a glycoprotein that plays an important role in immune system function. *
Elderberry, legendary for its immune properties.
Camu Camu, a tart berry, popular for its high vitamin C and antioxidant content. *
β-glucan polysaccharides, used to kickstart the immune response. *
Citrus pectin, a great source of vitamin C and fiber that increases bioavailability. *
In addition, ImmunoSTART tablets are fortified with colostrum, a nutrient-rich fluid produced by female mammals immediately after giving birth. Colostrum is not milk, but rather a biological precursor containing many "superfood" characteristics, including critical nutrient support for newborns within their first hours of life. This same strengthening fluid has been used for centuries by many cultures for its health-promoting properties.
This easy-to-digest nourishment contains immunoglobulins to help naturally bolster the body's immune system. This is known as one of nature's most effective antibodies and raises a healthy body's numerous immune cells (white cells), which are needed when the immune system is challenged. * †
"Hands down, ImmunoSTART is the very best product for immune response " – Dr Steve Nugent, Chief Health and Nutrition Officer.
According to Dr. Steve Nugent, every household needs ImmunoSTART, even when your family is feeling healthy. Great tasting, chewable ImmunoSTART tablets are family-friendly. And of course, they are suitable for vegan, gluten-free and lactose intolerance diets.
Manna-C
Manna C is a powerful antioxidant that supports nasal and sinus health. The ingredients have been used in a number of different studies indicating good results for upper respiratory conditions, general cold and flu, and maintaining a healthy body and immune system. *
It contains AmbroGuard (premium Arabinogalactan) – sourced from the western larch tree which is excellent for immune support especially coming into the cooler months. Research indicates the larch arabinogalactan in Manna C supports the proliferation of the beneficial bacteria Lactobacillus plantarum found in the colon.*
Manan C also contains Manapol and glyconutrition to support your general health and wellbeing.
*www.mannatechscience.org/publications – Immunomodulatory effects: A randomised, double-blind, placebo-controlled, multidose study.
Bundles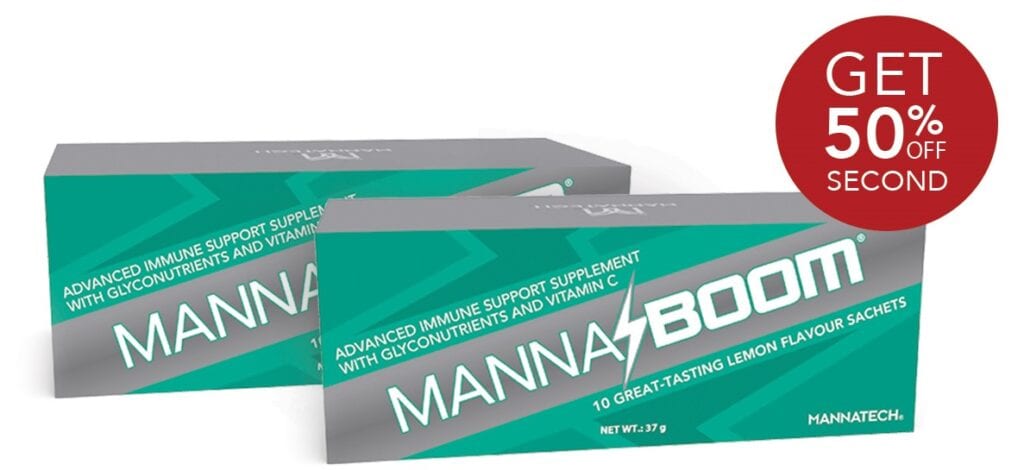 MannaBoom – Buy One and Get the Second at Half Price
2 x MannaBoom
Associate Price: $90.00 AUD / $99.00 NZ /SING
PV: 80
Available: 20 February – 31st March 2021
Available on all orders (Automatic and One-time)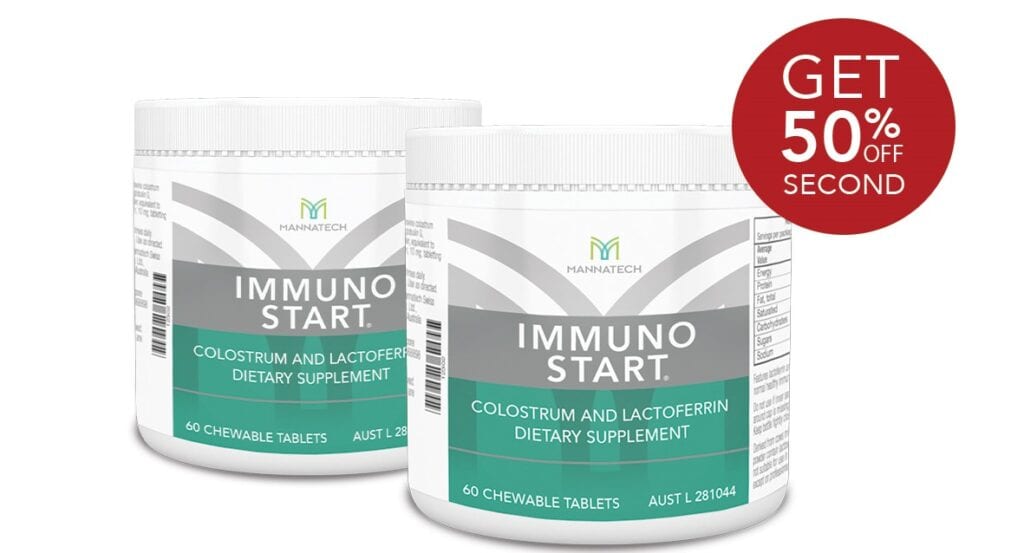 ImmunoStart – Buy One and Get the Second at Half Price
2 x ImmunoStart
Associate Price: $85.50 AUD / $93.75 NZ /SING
PV: 74
Available: 20 February – 31st March 2021
Available on all orders (Automatic and One-time)
Immune Support Bundle 30% off
1 x MannaBoom, 1 x Manna-C, 2 x ImmunoStart,
Associate Price: $159.99 AUD / $175.00 NZ /SING
PV: 160 (Additional 12PV)
Available: 20 February – 31st March 2021
Available on all orders (Automatic and One-time)
Mannaboom Resources
MannaBoom Product Description Sheet
MannaBoom Sample Card
ImmunoSTART Resources
ImmunoSTART Product Description Sheet
ImmunoStart FAQ
Dr Nugent Product Training
Manna-C Resources
Manna-C Product Description Sheet
Dr Nugent Product Training
*These statements have not been evaluated by the Therapeutic Goods Administration. This product is not intended to diagnose, treat, cure or prevent any disease