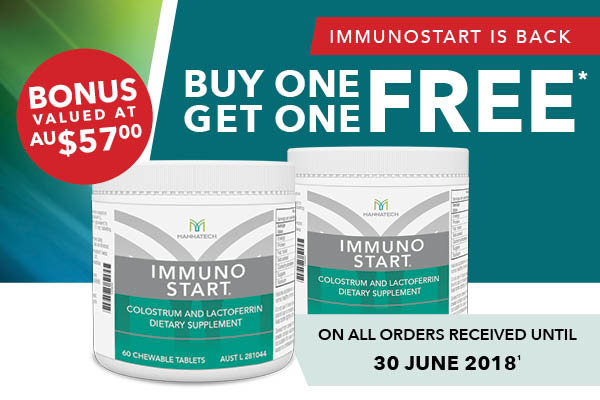 ImmunoStart – Buy One, Get One Free
ImmunoStart is BACK!
 
All backorders will ship shortly (with Buy One, Get One Free). You still have time to take advantage of this promotion when you order ImmunoStart by 30 June 2018. Don't miss out!
Designed to build, support and nurture your immune system health.* The colder months are just around the corner. Stay ahead of those colds this season. Immunostart is the go to product, when you think you're coming down with something! 
Exclusive formulated nutrition technology

Supports a healthy immune system

Increases plasma levels of neutrophil precursors (neutrophils are an integral part of the immune system)

Highest quality ingredients

Made in Australia

Take twice a day
Customer/Associate Price: AU$57.00 / NZ$62.50 / SG$62.50

Stock up for the season or gift it!

*  These statements have not been evaluated by the TGA. This product is not intended to diagnose, treat, cure or prevent disease.
1. Available on automatic and one-time orders. Whiles stocks last.