Mannatech's Official Smartphone App, Mannatech+ Is Now Available
This past month has been huge for Global Mannatech and our Associates around the world. We launched our new branding at the MannaFest 2016 event and have since been rolling out a range of incredible updates, products and features in line with the new company direction, to transform lives for the better.
This includes a new smartphone app that has revolutionised the way Associates can share materials, resources and build their network!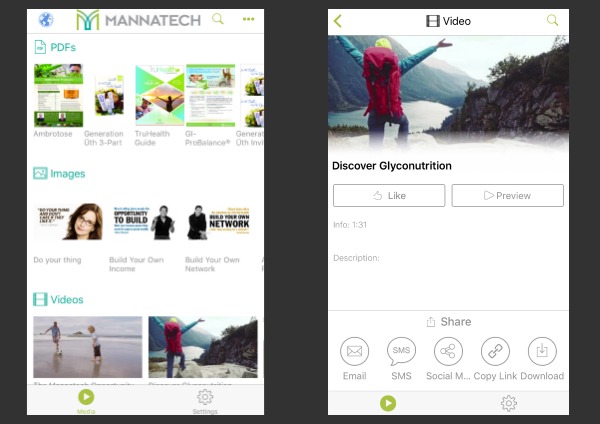 Share any of the content below via email, text or through your social networks:
PDFs: Product Information Sheets, training tools, books and much more!
Videos: Choose from dozens of Mannatech videos conveniently separated into categories
Images: Hundreds of images to share on social media including product images, motivational quotes and much more!
Instant Notifications: Receive a text and/or email as soon as one of your prospects opens any of the content you share with them.
Learn how to grow your business from Mannatech & Industry through thought leaders: 
Monthly Audios: Listen to Mannatech leaders who share their success secrets.
Personal Development:  Access hundreds of Achieve Today webinars, calls and exercises
Community:  Collaborate with other like-minded individuals who want to grow
With an intuitive interface and compelling content, Mannatech+ makes growing your business simpler than ever! The app is free to download and provides you with a free trial that includes 5 free shares initially. Once the free shares are used up non subscribers only receive limited access to the features of the app.
Paid subscribers get a wide range of extra features and benefits:
Free User Features
Subscriber Features

Watch videos while connected to the internet within the app
View PDF's within the app
Subscription trial with 5 free shares and creation of a share profile
View images within the app

Share unlimited content via email, text, social media, and links
Custom content viewing web pages
Custom profile page that includes your contact information, bio, social network connections, and photo – this will ensure your prospects contact you back
Lead capture page – this can be turned on or off
Notifications via email when a contact views content you share – this can be configured in settings
Receive notifications when a contact fills out a lead capture page – this can be configured in settings
The latest content added such as videos, audios, PDFs, and images
Much of the content is exclusive to the app
Content is updated monthly
Download content for offline viewing
Streaming costs and hosting included
Resources available are updated regularly so subscribers can share the most up to date Manatech news and resources with their networks.
Resources available are updated regularly so subscribers can share the most up to date Manatech news and resources with their networks.
Subscribers can choose between 2 package options:
The app is now available and ready to be utilised to grow your business to new heights. Head to the App Store and prepare for ultimate synergy with Mannatech+.