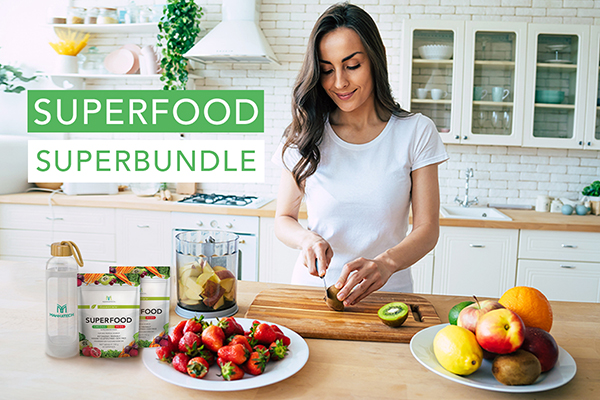 Bursting with potent vitamins, minerals, chlorophyll and phytonutrients, our Superfood Greens & Reds is the healthy nutrient-rich boost you need – a pure, plant-based nutritional drink designed to help you increase your daily intake of fruits and veggies. Now we have a special Superfood Super Bundle for you. Get your hands on it now!
Promotional Bundle Includes:
2 x Superfood Greens and Reds
1 x Glass drink Bottle
Superfoods Brochure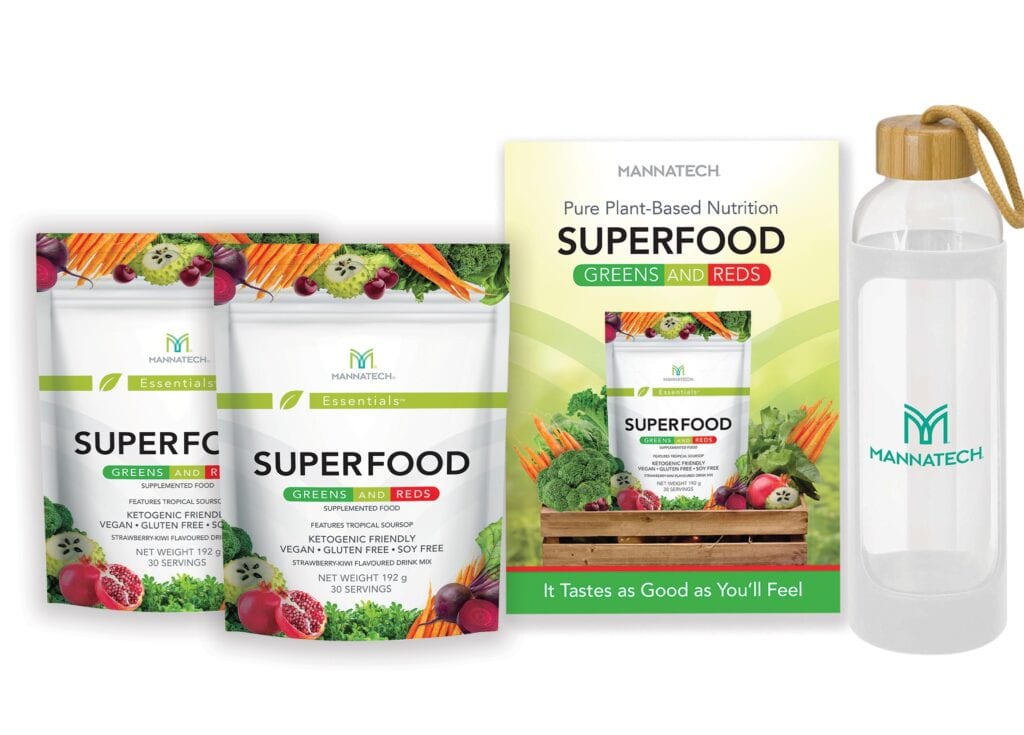 Associate Price: $170.00 AUD/SG $180.00NZ
PV: 140
Available: 1st August – 31st October 2020 or until stocks last.
Why Superfoods?

Superfood is a term that refers to foods that contain exceptional nutritional benefits. Their high nutritional density means that they provide a substantial amount of nutrients and very few calories.
The benefits of consuming superfoods are many due to the high concentration of vitamins, minerals, and antioxidants. They may support your body to fight diseases and keep you healthier. When incorporated into a well-balanced diet, Superfoods may promote heart health, weight loss, improve energy levels and even reduce the effects of aging.
Why Aren't We Getting the Nutrition We Need?
The truth is, only half of adults meet the dietary guidelines for fruit
and just 1/3 meet the daily recommended intake for vegetables.‡
While food choices are more plentiful than ever, the foods we eat
don't offer us the nutrients we need. The fact is, poor nutrition is a
worldwide problem due to several factors:

• Modern agriculture methods render foods less rich in nutrients.
• Our busy lifestyles promote eating out and on-the-go.
• Refined and processed foods have become widely available.

That's why Mannatech developed a convenient, nutritional drink
to add to your healthy lifestyle.
What is Superfood Greens and Reds
Mannatech's Superfood Greens and Reds is a great tasting drink, specifically formulated to help increase nutrition by providing powders of 16 important fruits and vegetables. Unlike other green drinks, Superfood contains soursop, betaine and our proprietary Glyconutrients†, for a unique blend that actually tastes as good as you'll feel.
What Makes Mannatech's Superfood Better?
Mannatech's Superfood Greens & Reds contains unique ingredients your average Superfood powders do not. Soursop, which is a powerful tropical
superfruit containing antioxidants. Soursop is native to the tropical regions of the Americas and the Caribbean. Soursop is known as an ancient, powerful superfruit that contains antioxidants and fibre.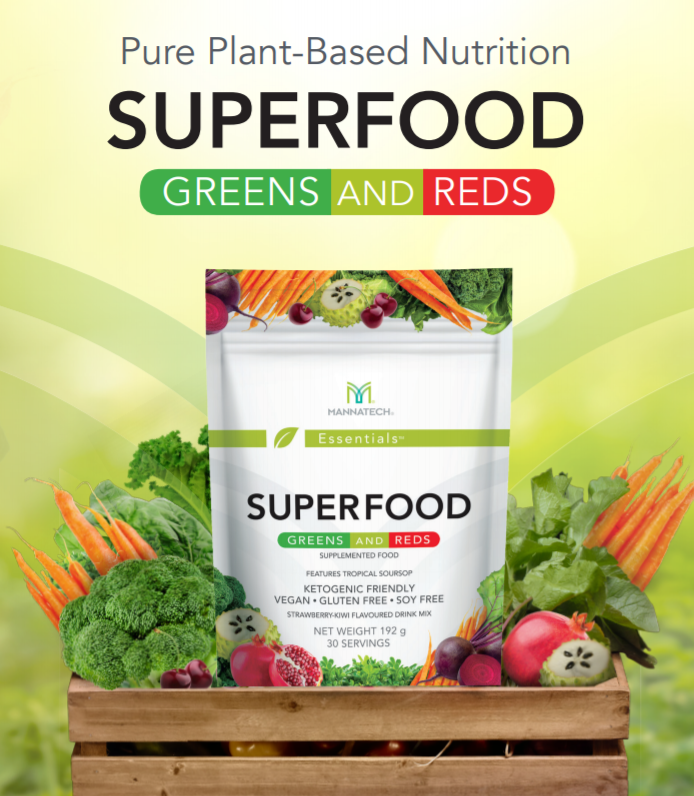 Betaine, which is sourced from beetroot, is well known as a robust amino acid. To make our Superfood powder even more powerful it has been infused with our Glyconutrient blend featuring AmbroGuard®.
You'll love it!
Superfood Greens and Reds have a delicious Strawberry-kiwi flavour. It makes it easy and ideal for you to add to juices, smoothies or water. You will actually enjoy your daily dose of greens and reds! It is loaded with plant-based nutrition, fibres, glyconutrients, vitamins, minerals and antioxidants and is bound to make you feel exceptional!


Nature's Greens & Reds
Superfood Greens & Reds contains 16 health boosting greens and reds
Soursop
Spinach
Carrots
Broccoli
Alfalfa
Aloe
Kale
Prune
Pomegranate
Strawberry
Raspberry
Blueberry
Tart Cherry
Acerola Cherry
Elderberry
Cranberry
*These statements have not been evaluated by the Therapeutic Goods Administration. This product is not intended to diagnose, treat, cure or prevent any disease.
Superfood Greens and Reds Brochure
Superfood Greens and Reds Product Description Sheet