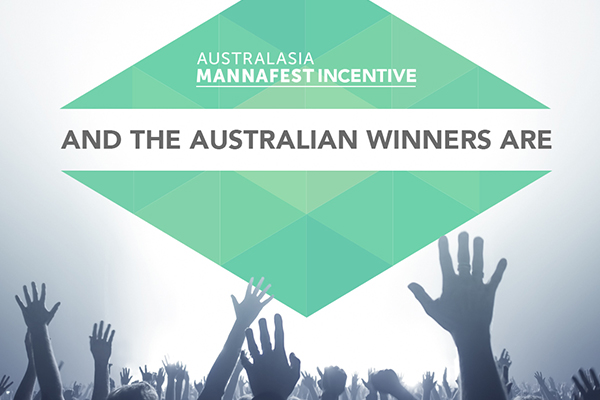 Australian Australasian MannaFest 2016 Incentive Winners
Australian Winners
The Australasian MannaFest 2016 Incentive has concluded and we are proud to announce the Australian based winners who will be joining us in the celebrations!
The Associates below have done incredibly well in achieving high results and maintaining those results throughout the incentive period, and they are more than deserving of a seat at the festivities.
Double Package Winners
Single Package Winners
Upline, Carlos Neate
Oscar Natera & Sandy Clewett

Upline, Dayandra & Gloria Hettige
Health Empowerment

Upline, Diversity Project MGT AUS P/L
Stephanie Joseph

Upline, Global Partners Inc
Rodney & Cheryl Gilchrist

Upline, Judy & Trevor Abbott
Kristy & Grant Sapwell
Karen Nickels

Upline, Mandakini Trust
Melissa Humphris

Upline, Naomi Enevoldson
Paula Khouri
Jessica Hargrave
Irene Linney
Shirley Bossard
Kate Taylor
Sandra Spence
Crystal Ward

Upline, The Smith Family Trust
Kate Warby
Judy McCarthy

Upline, Ultimate Wellness Inc
Rachel O'Connor

Upline, Wellth Twenty-20
Naomi Enevoldson

Upline, Carlos Neate


Francis & Kila Xavier
Phil & Patricia Walkden-Brown
La Donna Hegarty

Upline, Cashflow on Tap Pty Ltd
Annie & YC Goh

Upline, Cheryl Gilchrist
Ridley Paul
Gabi & Darryl Stumbles


Upline, Dayandra & Gloria Hettige
Richard Koh

Upline, Denise Hillis
Dayandra & Gloria Hettige

Upline, HVA Trust
Karen Denniss

Upline, Judy & Trevor Abbott
Francesco & Tina Barbaro
Fortunato Marafioti
Christine Brogan
Kelly Abrahamson
Michael Potitt

Upline, Karen Denniss
Andrea Walker

Upline, Kimberley Douglas
Kimberely Douglas

Upline, Mandakini Trust
Bronwyn Quinn
Louise Wallis

Upline, Mannaglyco Pty Ltd
Cher Siong & May Lee

Upline, Mannateach Pty Ltd
Sharon Hammond

Upline, Mario and Maria De Leso
Chris Pitcher

Upline, Marjorie Smith
Dita Bouma

Upline, Naomi Enevoldson
Kristy Gardner
Nerina du Plessis
Joanne Bishop
Helen Shepherd
Melanie Bourke
Tenille Pedrotti

Upline, Parker Enterprises Pty Ltd
Carlos & Stephanie Neate

Upline, The Smith Family Trust
Anne & Anthony Everingham
Alan & Sandy McCloskey
Chris & Brian Eaton
Jo Ferguson

Upline, Treasure Trust
Mandakini Foux

Upline, Wellth Twenty-20
Chris & Annette Smith

Upline, White Family Group P/L
Ray & Verlie Walker
They will be hearing from inspirational speakers, such as our very own CEO & President – Al Bala, Speaker & Author – Allan Pease, Silver Presidential – Bo Alex and our captivating General Manager for Australia, New Zealand & Singapore – Mandy Morelli.
Don't hesitate to secure your place at Australasia's biggest event of 2016, register here.