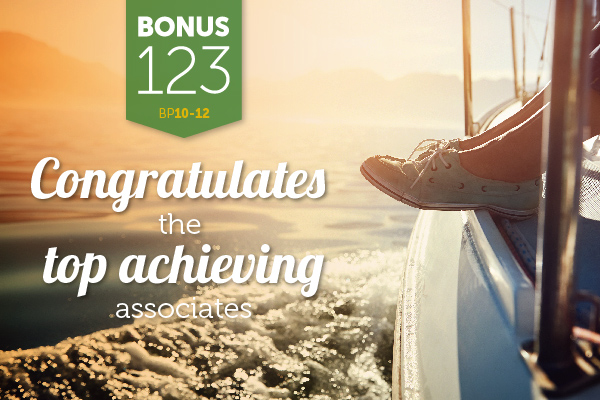 Mannatech congratulates the achieving associates so far, of the 123 Bonus Incentive
Mannatech launched their 123 Bonus Incentive at the start of BP 10 and there are already so many associates reaping the rewards! The incentive challenges associates to enrol 2 All-Stars within 1 full BP to earn themselves extra cash on top of the Direct Bonuses they are already achieving. We wanted to acknowledge the top 20 Achievers of BP 10, so big congratulations to the following associates:
Rodney & Cheryl Gilchrist
Naomi Enevoldson
Simeon Cryer
Chris & Bev Gregory
Bev Walker
Robyn Sully
Anne-Maree & Stephen Falzon
Chris & Brian Eaton
Cher Siong & May Lee
Cheong Yuet Meng & Edwin Loh
Indra Virasinghe
Ah Sin ANG
Stephanie Joseph
Markus Qi En Loh
Melissa Humphris
Marcus Pett
See Howe Yeo
Xiaoli Chi
Liana Virasinghe
Barbara Ferguso
The incentive is now halfway through its cycle however it is not too late to earn the bonus cash, after all, it's as easy as 1,2,3! Click the link to find out more details about the 123 Bonus Incentive and add your name to the list of achievers!