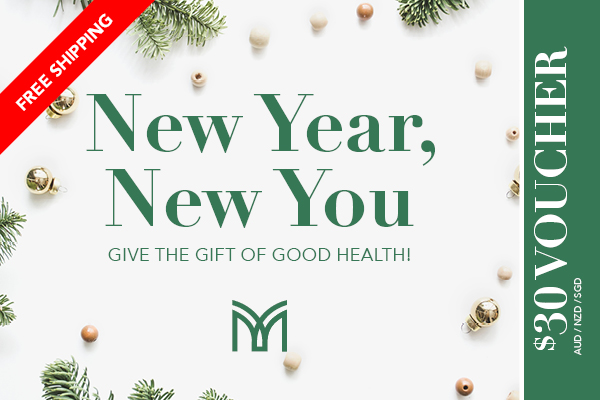 Give the gift of good health this Christmas!
After the hugely successful Saturday Morning Call, Jenny Messenger has announced FREE SHIPPING when you use this voucher! Make the most of the Holiday Season, whilst our schedules become busier with preparations and celebrations, make sure you take time out for yourself.
Take time out with these healthy tips over the silly season:
We all need time to recharge our batteries. Why not go for a long walk, get a massage, listen to your favourite music or read a new book

Remember what's important – as we get busier and your expense list gets longer, it's OK to scale back and remind yourself that what matters most is your loved ones

Healthy commitments are apart of self-care, so make sure you prioritise them! Whether that means taking Mannatech supplements as part of your daily routine, exercise or reaching out to others in times of need, it all makes a difference. 
Mannatech has so much to offer, so why not share it with family and friends that you love.
Mannatech has you covered at this time of year:
From December 1st, all current orders will receive a Gift Voucher in your order*. It means that you are entitled to a $30.00 AUS/NZD/SGD credit to your next additional order! Available for redemption between 10 January – 10th February, 2020, you can redeem your voucher in three easy steps.
Redeem your voucher in 3 easy steps!
Your Voucher has a unique code printed on it. Keep this in a safe place, as you will need this unique code to redeem.

Call Mannatech Customer Service between 10th January – 10

th

 February, 2020 and place your

One Time Order

of

100PV

or more. Note that your automatic order is not able to be changed for the month. 

This OTO will be placed in the period 10th January through to 10th February 2020.
Terms and Conditions:
Each voucher has a unique code which must be redeemed between 10th January – 10th February 2020.

The vouchers are only redeemable by contacting Customer Service on 1300 361 878 (AUS), 0800 333 250 (NZ) and 800 130 1597 (SG)

This offer is only available on additional orders during the period of 10th January – 10th February 2020, and therefore automatic orders can't be changed for the aforementioned months.

This offer is not available to new customers or associates, however if a new customer would like to place an additional order in the aforementioned months, they are then eligible to use this voucher

This offer can't be used in conjunction with other promotions

One unique code can be used per person / position.
*For those Associates and Customers that have had their order shipped between the 2nd – 5th of December, you will be receiving your vouchers separately via post. For the orders that ship from the 6th of December onwards, your voucher will arrive with your order. For any missed vouchers please email Customer Service at Custserv@Mannatech.com.au.