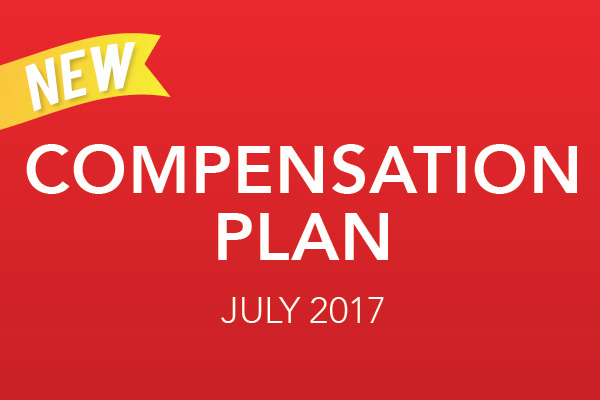 New Compensation Plan Officially Launches
Mannatech's New Compensation Planofficially rolled out on July 1 2017.
The a new, state-of-the-art global seamless compensation plan which is expected to deliver record-setting growth and new momentum for its independent sales Associates all over the world.
In the last year, Mannatech has reshaped itself with a rebrand and the introduction of a variety of consumer-friendly products in some of the fastest growing market segments in the direct selling distribution channel.
And as of July 1, it has completely overhauled its compensation plan with one that offers a business model built on compliance, simplicity, and incentives for proper Associate behaviors that will build long-term and profitable businesses.
"Our new compensation plan is easy to understand and share while giving our Associates a clear path to building successful and sustainable businesses," said Alfredo "Al" Bala, CEO and President of Mannatech. "Mannatech is widely recognized for having the highest quality, science-backed products, and now our opportunity will match our products. Our new compensation plan will make sure those who are building according to commonly accepted best of class methods to deliver optimal customer and Associate experiences, are suitably and amply rewarded, especially those starting out in their first 90 days."
For months, Bala has traveled the globe, working with top Associates, receiving feedback, sharing the details of the new compensation plan and co-creating in the process the most attractive, aggressive and competitive compensation plan in the industry. 
The result will be a plan that will have a straight line, connecting effort, volume, rank, leadership development and rewards. The more an Associate produces, the more rewards they will receive. The plan also puts a strong emphasis on customers and retail and has generous incentives for developing leaders that will put them on track for long-term success.
For Mannatech Associates, this is expected to create an exciting new era for Mannatech Associates, its customer, employees and shareholders. This era of new Momentum and growth also brings the company closer to achieving the ultimate goal of nourishing five million children through Mannatech's M5M mission and vision.
"I'm excited about what the new compensation plan will mean to so many of our Mannatech Associates," said Ray Robbins, a Mannatech founder, Master Distributor and member of Business For Home's Top 50 Earners list. "The new compensation plan makes it very clear how we can earn and what it takes to achieve success. The starkest principle of the new compensation plan is that those who put in the right kind of effort consistently can do very, very well financially with Mannatech."
 The implementation of the new compensation plan is underway, and is expected to help create new levels of momentum for Mannatech.
"The new comp plan will enlarge the base of Associates who earn income by 100 percent and dramatically increase rank advancements and opportunities for recognition," Bala said. "We could see as much as a 50 percent increase in activity by those taking part in our business opportunity and because of that, I expect that the new compensation plan will be a catalyst for Momentum and growth in 2017 and beyond."


One of the first steps in ensuring you reap the rewards of the new comp plan is to find five customers.
Once you are on your way to finding your Five customers it's time to launch into our Autoship Qualifying (AQ) Bonus!
AQ BONUS PAYS YOU AS YOU BUILD!
Once you have your FIVE customers your focus should now be on finding two business builders and helping them to find theirfive customers.
All five customers need to bring in a minimum 100PV each.
When you have FIVE customers with an Auto Order of 100+ Point Volume each you will receive $95.
When your two business builders have FIVE customers each with Auto Orders of 100+ Point Volume you will receive an additional $380.
Your total AQ Bonus commission for having FIVE customers + 2 business builders who also have FIVE customers will be a total of $475.
Now is the time to find your 5 customers and 2 Business builders to position yourself to reap the rewards of the new compensation plan.
Stay tuned for another compensation plan tip, where we will show you how you can earn an extra $ on top of your AQ Bonus.
Click here to watch our comprehensive training webinars.