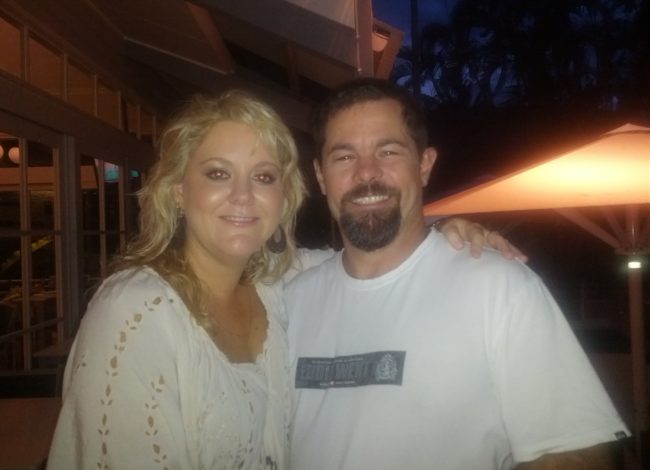 Amy wanted to earn extra money at home
By National Director Amy Hartley
Firstly I would like to thank my up lines, Executive Directors Annette and Chris Smith, Naomi and Kristian Enevoldson and Silver Presidential Directors James and Kasey Hannan for their support over these few months to help me achieve my goal of National Director, allowing me to earn extra money at home.
My Mannatech story
My husband and I have always worked hard to achieve our goals, whatever they were. We have always been active in business and in the community. We have always been healthy and fit. My experience is very broad, having worked in retail, cafes and for the Government. Paul has worked shift work for the past 20 years.
An accident changed my life
In 2012 I had a workplace accident: a simple fall off an office chair saw me have my L5 & S1 vertebrae fused because the disc had burst and it was impinging the nerve. Three months after the operation there were complications: my scar tissue had totally encapsulated the nerve and there was no way that the surgeon could remove it.
I began to suffer chronic pain, requiring 20+ medications a day.
I needed to earn extra money from home
Going from two wages down to one was a nightmare. We managed for a while but we soon realised that something had to change.
As I found it difficult to sit or stand for long, so a "conventional" job was unsuitable I was looking for a business I could work at from home. I found an advertisement on Facebook. I enquired, I and received a call from Annette Smith. Then I did my research. Deciding this type of business was for me, I signed up as an All-Star in April and in BP12 I became a National Director!!!
But I panicked
I got cold feet and panicked. I emailed Annette and said that I've made a mistake and I've had second thoughts about the whole thing. After talking to Annette I was back on track.
Then I had  another panic attack. I sent another email to Annette but this time Naomi rang me. Phew!
Now I was focussed and 100% committed. If it wasn't for these two ladies, my journey with Mannatech would not have even lifted off the ground!!!
This was going to be tricky!
My next hurdle struck me – how was I going to share Mannatech when I didn't know anyone? How could I earn the extra money at home with Mannatech when I couldn't leave the house. I didn't work in a mainstream job. Yikes, I didn't know what to do. 
Then I realised I had all these friends I could start chatting with on Facebook. I started to say "hi" to them. I followed the system we have in our team. Then before I knew it I had my friends on Facebook interested in what I was doing and they wanted to become clients and business partners.
I didn't have to do any fancy Facebook marketing, I just had to start talking to the people I knew, the same as you would if you saw them in person and it went from there.
That's how I built my business. 
Upline support and personal development is critical
Although I worked hard, the support from my upline made the biggest difference with my business success. In turn, I've helped my downline to achieve their next level and helped them earn extra money at home.
During my journey to National Director, I've had a great deal of personal growth and personal satisfaction. I strongly believe that listening to the CD's, reading the books and talking to my up line regularly for guidance has made it easier for me to achieve my goals.
Mannatech ticks alot of boxes for me
Mannatech ticks all these boxes:
Personal growth/development

Heading for financial freedom

Social entrepreneurship, knowing that all of my hard work is not only helping me but also helping to nourish children at-risk of malnutrition

Health and wellness

.
My next goal
My next goal is to reach Executive Director by the end of January 2015. And, who knows, Senior ED by the end of May/June 2015.
I've got the tools I need.
I've got support I need.
I've got a system that works.
But, most of all, I have the drive to success but by saying that, we must all work together as a group to achieve our own personal goals.
Have you experienced the power of Facebook in your Mannatech business? Share it  by writing a comment in the box below.
© 2014 Mannatech, Incorporated. All rights reserved.
Mannatech, Stylised M Design, M5M, Mission 5 Million and Real Food Technology are trademarks of Mannatech, Incorporated.