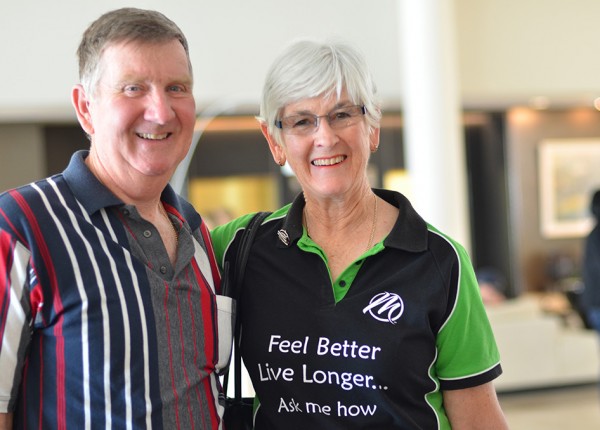 I needed to make a lot of changes
Interview with National Director Pauline Hancock
46 Australasian Mannatech Associates are participating in the 100 Day M5M Challenge. These Associates have committed to creating and embedding a series of critical daily habits during the months of August, September and October to take their Mannatech business to the next level. Last week on our blog, we caught up with Executive Director Julia Corradetti, one of the highest point scorers for the month of August.
This week, we interviewed National Director Pauline Hancock, who also achieved top scores in the August Leaderboard for the 100 Day M5M Challenge in the month of August.
What have you done that has made the biggest difference in reaching your 100-Day Challenge goal?
I completed a personal audit and needed to make a lot changes. I have set up a daily walking fitness programme (climbing the hills around my place) and am revisiting my old personal development books. This gets me going in the morning and therefore my time management is better.
What advice would you give to Associates who might need an extra push meeting their 100-Day Challenge?
Follow the daily habits planner and document daily. If you can't do it all every day, chunk it down and work on what you can manage and manage it out across the week.
What tools do you use the most? For example, Mannatech The Story, the  Ūth™ video, the M5M Napkin booklet, Make the Switch??
I love the Mannatech The Story booklet. I call it the prospectus. It covers all we need to discuss. The Make the Switch brochure is a favourite too. Saturday morning calls with Executive Director Sharon Whiteman are a great resource. I not only listen to these calls (they are recorded) but I also share the content with prospects. I am currently using the Dayandra Hettige call on NutriVerusTM.
What inspires you to succeed?
Helping both Associates and prospects, and working with their successes big or small.
What about Jason Lester inspires you the most?
His commitment and determination. His "stickability."
Which CD titles in the 100Day M5M Challenge CD kit have you listened to that are impactful?
I think they all have been impactful, but I love the Yolande van de Linde story of the pebble in the shoe. Another good audio is Kirsten Pearse on edification and the importance of this in your growing business.
What CDs in the 100 Day M5M Challenge CD kit have impacted you the most? Share by providing a comment below.
Who is top of the Challenger leaderboard for September?
As part of the 100 Day Challenge, the Associates have been completing a daily tracker and accruing points for each activity completed. For the month of September, the top 3 Associates with the highest points accrued for activities they completed in September were:
National Directors Alan and Sandy McCloskey, New South Wales, Australia
National Director Pauline Hancock, South Australia
National Director, Sandra Braid, New South Wales, Australia.
Would you like to congratulate these Top 3 Associates? Send them a message by commenting in the space at the bottom of this article.
The importance of personal development
One of the points in The Three Point is "Me" or developing yourself. Both Executive Director Julia Corradetti and National Director Pauline Hancock agree they have enjoyed the personal development side to the 100 Day M5M Challenge through the 100 Day M5M Challenge audio CD kit.
All successful leaders in a Mannatech business agree on the importance of personal development.
Executive Director Naomi Enevoldson said personal development was one of the three measures she had taken in the past 12 months to ensure such a phenomenal result at this year's Australasian Convention.
"A big thing for me is personal growth and developing as a leader. With that in mind I've put a lot of focus on the way that I'm thinking, really changing those negative thoughts straight away into positive thoughts so that I can go on to achieve more.
Let's now focus on you and your business. What are you doing right now to develop yourself? Have you considered enrolling for a personal development event like the upcoming INtentional YOU?
This course is a wonderful opportunity to develop yourself as a person and making your cause of action clear. Why you are doing Mannatech? Connect. Re-focus. Tap into boundless energy and passion. More specifically, INtentional YOU provides an opportunity to:
Unleash your potential through clarity, contrast and increased awareness
Experience breakthroughs both personally and professionally
Gain tools and techniques that will empower you to reshape your future
Expand your belief in what is possible
Inspire a vision of making a living by making a difference
Have FUN with your Mannatech family.
Read more about the course here.
Places are running out, so register today! Register for the Australian course here and the Singaporean course here.
How are you developing a personal development practice for your business? Share your tips in the comment box below this article.
© 2014 Mannatech, Incorporated. All rights reserved.
NutriVerus, Mannatech, Stylised M Design, M5M and Mission 5 Million are trademarks of Mannatech, Incorporated.