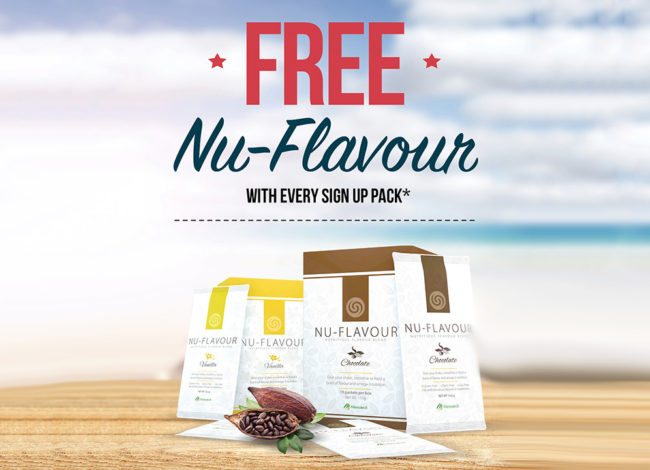 Add some Nu-Flavour™ to your day
Give your shake, smoothie or food a burst of flavour and Omega-3 nutrition with Mannatech's Nu-Flavour product in either Chocolate or Vanilla.  By mixing and matching with your favourite foods and drinks, you can create your own combinations and enjoy a burst of flavour! 
More than just any flavour mix-in, Nu-Flavour product is also nutrient-packed!
Mannatech's Nu-Flavour product features a proprietary blend of flaxseed and rice bran, for a low calorie and great tasting addition to your nutrition. It is free from dairy, gluten and soy, and contains no artificial flavours, colours or sweeteners.  Available in chocolate and vanilla, Mannatech's Nu-Flavour product has a mild, slightly sweet taste that mixes great with many of your favourite shakes and smoothies, making them ideal for use with Mannatech products such as Ambrotose®, NutriVerus™® and OsoLean® powders.  Mix with one or mix with them all and discover your own favourite recipe. Just another way to boost flavour and your health! 
Nu-Flavour product is designed to:
Sweet tasting chocolate or vanilla flavour to add to shakes, smoothies, cereals, puddings or other drinks and foods where you want to boost the flavour.

Allow greater customisation and flexibility by empowering you to create your own great tasting combinations

Provide an additional dietary and plant source of Omega-3 essential fatty acids, phytosterols and antioxidants
ADDITONAL BENEFITS:
Vegan, dairy free, gluten free, soy free

Provides over 3 grams of easy-to-digest flaxseed powder

Great alternative to artificial sweeteners

Suitable for almost anyone, from children to adults, including those on vegetarian or vegan diets.

Just 60 calories (vanilla flavour); just 70 calories (chocolate flavour)

Mixes well and tastes great

Available in convenient, single-serving packets (10 per box)
Those who have tried it say that it improves the taste of Ambrotose, NutriVerus and OsoLean powders.
If you haven't tried this great new product yet, you can purchase it for only AU$8 (MPM) and for all those new people who join Mannatech in BP5, they will receive a box of Nu-Flavour product FREE to try for themselves. That's great value for new sign ups!

My Favourite Product
Karen Denniss, Bronze Presidential from Brisbane tells us why she loves Ambrotose so much! "Ambrotose is my favourite product because of the dramatic change I see it make in people's lives. It is an essential food source that everybody's cells need to communicate information & particularly support the immune system which is the system our body has to stand guard against [outside environmental] attackers."
© 2015 Mannatech, Incorporated. All rights reserved.
Mannatech, PhytoBurst, Ūth, OsoLean, NutriVerus, MannaTracker, Mission 5 Million, MannaBears, Nu-Flavour, PLUS, Ambrotose and Real Food Technology are trademarks of Mannatech, Incorporated.