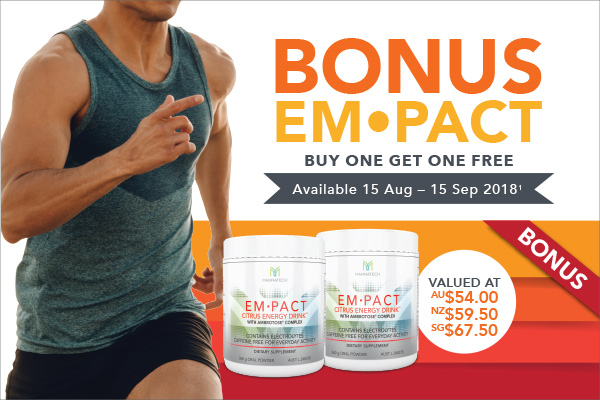 Empact – Buy One, Get One Free
With AMBROTOSE COMPLEX AND MANAPOL, EM•PACT is clinically shown to increase stamina and endurance to help you perform in peak condition. 
Benefits
Supports the body's natural physiology prior to and post workouts.

Contains electrolytes potassium and magnesium.  

Provides caffeine-free sustained energy.
How to Use
Mix one level tablespoon with 250ml water 15-20mins prior to exercise and/or post workouts.

1. Available on ALL Orders (Automatic and One-Time), while stocks last. * These statements have not been evaluated by the Therapeutic Goods Administration. This product is not intended to diagnose, treat, cure or prevent any disease