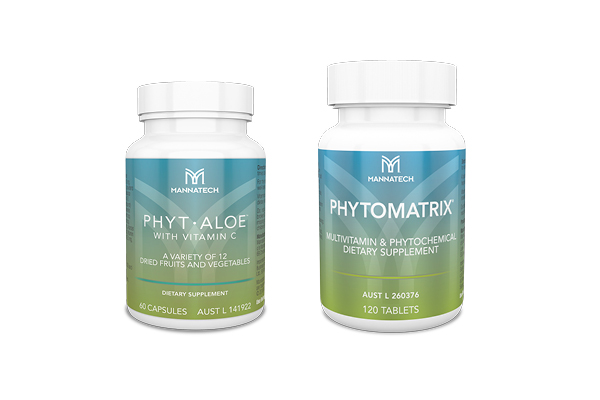 Phyt•Aloe and PhytoMatrix to be retired
Mannatech would like to advise that due to recent changes in local regulatory conditions and changes to suppliers, we are not able to produce the following products to a standard that meets Mannatech's quality and efficacy standards. After considerable research to seek alternatives of production, we have been unsuccessful in procuring supply to satisfy the new requirements. Therefore, unfortunately, these products will be retired in the near future. We thank you for your understanding.
Phyt•Aloe® will be retired from 1 November 2017
With PhytAloe being retired, the natural question would be, what can you replace it with? Here's what Dr Nugent, Mannatech's Global Wellness Director and Chairman of the Global Scientific Advisory Board recommends:
"Let me tell you what PhytAloe is, and then give you a rationale for upgrading your daily health program.

PhytAloe is a powder from a variety of fruits and vegetables which contains phytochemical antioxidants. This product became Mannatech's first antioxidant product. PhytAloe like all Mannatech technologies is a great product, but was created years before our new patented antioxidant product – Ambrotose AO.

PhytAloe is an excellent quality blend of plant-based antioxidants, but pales in comparison to the highly advanced antioxidant technology found in Ambrotose AO. So much so, when AO was launched there was serious discussion of retiring PhytAloe.

The other benefit of using PhytAloe is the role it plays in eye health. Naturally the question is, is there another product that could support eye health? Yes! NutriVerus contains organic fruit and vegetable powders, providing Phytochemicals including those in tomatoes and carrots. In addition, NutriVerus provides more than 100 different nutrients including vitamins, minerals and even some plant sterols.

For those who have been using PhytAloe as your antioxidant and have not yet started taking Ambrotose AO, I very strongly suggest you make the switch. And for eye health, I suggest NutriVerus"
PhytoMatrix® will be retired from 1 January 2018
Due to similar issues, PhytoMatrix will be also be retired. We recommend switching to Catalyst™.
Catalyst is an excellent general multivitamin and mineral supplement that promotes normal healthy functions of the bones, teeth, skin, hair, eyes as well as the nerves, liver, kidney, digestive tracks, energy metabolism and the immune system.
If you have an Automatic Order with these products and you'd like to switch to the alternative products, call our customer service team or visit mannatech.com.
PH: 1300 361 878 for Australia
PH: 0800 333 250 for New Zealand
PH: 800 130 1597 for Singapore.