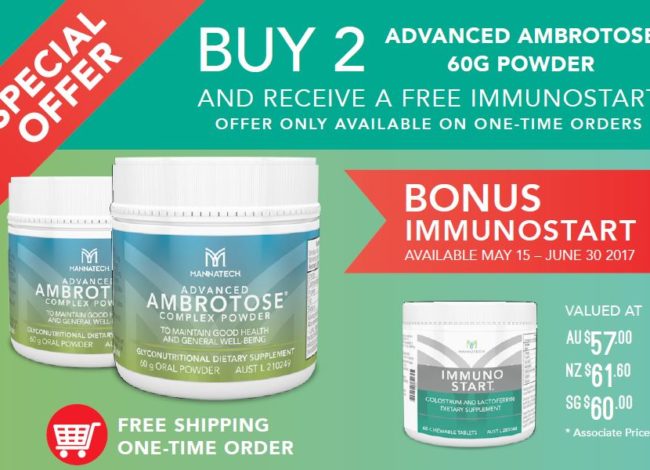 Special Offer! Buy 2 Ambrotose 60g and Receive a FREE Immunostart
With the cold and flu season beginning we have a special offer to ensure you keep your immune system strong! Purchase 2 x 60gm Advanced Ambrotose Complex Powders  Receive a Bonus Immunostart
Since 1997, over three million people around the world have experienced the benefits of Mannatech's glyconutritional supplements.
Ten studies have been published in peer-reviewed journals about the benefits of Ambrotose powder.*
They indicated that Ambrotose powder supported cellular communication, improved immune system health, improved cognitive function and supported gastrointestinal health.
Combine Ambrotose with IMMUNOSTART and kick your immune system into high gear!
IMMUNOSTART assists in the maintenance of general well-being, supports a healthy immune system and increases plasma levels of neutrophil precursor. Neutrophils are an integral part of the immune system.
You can read more on AMBROTOSE HERE and IMMUNOSTART HERE
Special offer is available May 15 – June 30 2017
Valued at
AU $57.00
NZ $61.60
SG $60.00
To place your order please call our Customer Service Team on 1300 361 878 for Australia, 0800 333 250 for New Zealand, 800 130 1597 for Singapore.