Why is hydration important?
Too hot to handle
Last year had the dubious honour of being the hottest that Australia has ever experienced since records began in 19101. It started with a scorching summer of above 40°C days across the country, peaking on the 12th January in Moomba, South Australia at 49.6°C. The uncharacteristic heat brought with it bushfires, cyclones and a more insidious danger: dehydration.
While dehydration has always been a very real threat in the summer months – particularly in Australia but also among its eastern and northern neighbours – never has this issue been more prevalent than during these recent heatwaves. If last year was anything to go by we may have another hot summer on our hands so it's important to stay hydrated. 
It's an aqueous life
Why is hydration important? Most of you have probably heard that your body is composed of up to 75% water. This amount varies between the genders – with women having about 50-55% body water and men upwards of 60% – and between different components of the body. Your kidneys have the largest liquid component at 81%, your brain and muscles have 75% and your liver has 71%. Even your bones, which most people think of as dry and hard, are composed of 22% water2. All in all, we're pretty wet creatures.
The problem is that moisture is constantly lost from our bodies through sweat, urination and, when we're sick, vomiting and diarrhea. Summer is particularly bad for sweating and even if you think you're not losing much water through the pores in your skin, keep in mind that you only need to lose 1% of your body's total water to start feeling the effects of dehydration3.
Water and your body
There's a very good reason that water is known as our lifeblood. Every system in our body is dependent on it to function. Each cell needs water to transport various vitamins, minerals and other important elements it needs to survive, as well as to flush out waste products produced during cellular function. These waste products are eventually processed in the water-laden kidneys where they are then excreted via urine2.
Water also carries oxygen to the parts of the body where it is needed most, including the brain and muscles. It acts as a lubricant between various muscles and joints and, on a cellular level, as a cushion between cells. It plays an important role in the thermoregulation of your body as it helps to dissipate heat2 and it's even been found to aid attention and concentration, possibly more so even than coffee4. That's why proper hydration is so important.
Are you dehydrated?
You might think that this is a silly question. Of course you would know if you were dehydrated, right? Not always. The first signs of dehydration can start before thirst kicks in3. While this might not be a problem when you're at home and can easily pour yourself a glass of water as soon as you realise you're thirsty, when you're out and about on a hot day your minor dehydration can easily escalate into some major symptoms.
Some of the symptoms of dehydration include:
Ÿ  dry mouth;

Ÿ  decreased urine production or darker coloured urine;

Ÿ  headaches, dizziness or lightheadedness;

Ÿ  dry skin and sunken eyes;

Ÿ  rapid heartbeat and breathing; and

Ÿ  fever, possibly with delirium.
Being aware of the symptoms of dehydration could mean the difference between staying fit and healthy over the course of the summer or finding yourself in a hospital bed. It's particularly important to watch for these signs in children, the very elderly or anyone who may not be able to communicate their needs.
To your hydration stations!
Now that we've scared you with the symptoms of dehydration, let's get onto the very simple solution: drink more water! While the food you eat can often contain water – particularly fruit, juicy vegetables, soups and stews – it's important that you put as much water into your body as you lose throughout the day.
We get it, water isn't the most thrilling drink. You might be tempted to increase your water intake with a commercial sports drink for added flavour, but too many glucose-laden drinks increase your calorie intake and can lead to obesity6. We have an alternative: EM•PACTTM preworkout sports drink, which has just 49 kcal/serving. Sip on it before, during and after exercise; take a bottle with you when you're gardening; drink a glass before going for a walk; have some handy whenever you're exerting yourself.
Unlike many commercial sports drinks, EM•PACT drink relies on fructose to trigger a lower release of insulin for extended periods of physical exertion. It has been clinically proven to increase oxygen uptake capacity and improve stamina and endurance, plus the natural lemon flavouring is delicious without being full of chemicals.
Keep hydrated with our Summer Survival Pack
Right now we have a promotional product pack designed to help you coast through summer and avoid getting dehydrated. It includes a tub of EM•PACT drink, a tube of Emprizone® hydrating gel (great for soothing your skin after exposure to the sun, salt and sand) and a free Mannatech barbecue apron.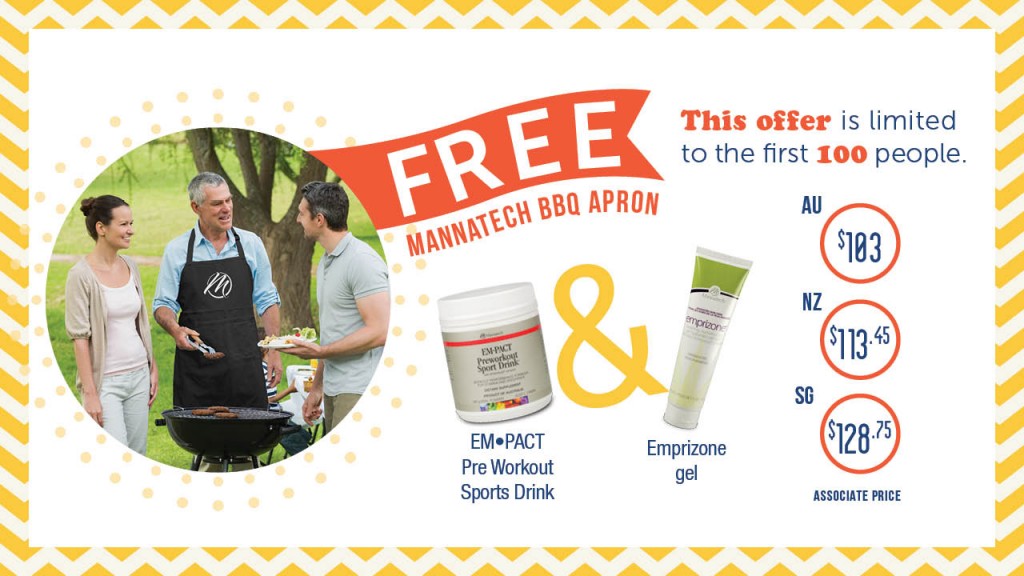 This offer is available from BP13 (22/11/14) to the end of BP1 (16/1/15). Stocks won't last long so get in contact with a customer service representative now on AU 1300 361 878, NZ 0800 333 250 or SG 800 130 1597 or email custserv@mannatech.com.au.
Don't just save these products for summer though; they can be used year-round and if you put them on automatic order, not only will you be earning loyalty points towards free products but you'll be supporting Mannatech's Mission 5 MillionSM project.
Have you seen the new EM.PACTTM preworkout drink product video?
EM.PACT drink is such a versatile product – it's not just for sports people!! It's for everyday people, doing everyday things who want increased stamina and endurance. Check out our new product video on EM.PACT drink and share this great product with everyone.
Tell us what you think about EM.PACTTM preworkout drink
Win $500 cash for your "Ahhhh…EM.PACT moment"! Send us in a photo or video of where/when you take EM.PACT pre-workout sports drink with a short testimonial. The best entry will win AUD$500 cash. Entries close 31/12/14. Email your photo or video into marketing@mannatech.com.au. For more information, call Customer Service on AU 1300 361 878/NZ 0800 333 250/SG 800 130 1597.
1 "How Australia's hottest year on record unfolded", ABC News, www.abc.net.au/news/2014-01-03/how-australias-hottest-year-on-record-unfolded/5183234
2 "The importance of hydration", European Hydration Institute, www.europeanhydrationinstitute.org/hydration.html
3 "How much of your body is water?", About Education, http://chemistry.about.com/od/waterchemistry/f/How-Much-Of-Your-Body-Is-Water.htm
4 "Dehydration a major contributor to attention issues", News Channel 3, www.wwmt.com/news/features/top-stories/stories/Dehydration-a-major-contributor-to-attention-issues-58219.shtml#.VHUAQ4uUcnM
5 "Diseases and conditions: dehydration symptoms", Mayo Clinic, www.mayoclinic.org/diseases-conditions/dehydration/basics/symptoms/con-20030056
6 "Daily water intake", Nestle Waters: The Healthy Hydration Company, www.nestle-waters.com/healthy-hydration/daily-water-needs
© 2014 Mannatech, Incorporated. All rights reserved.
EM-PACT, Emprizone, Ambrotose, Advanced Ambrotose, BounceBack, Manapol, Ambrotose AO, Mannatech, Stylised M Design, M5M, Mission 5 Million and Real Food Technology are trademarks of Mannatech, Incorporated.