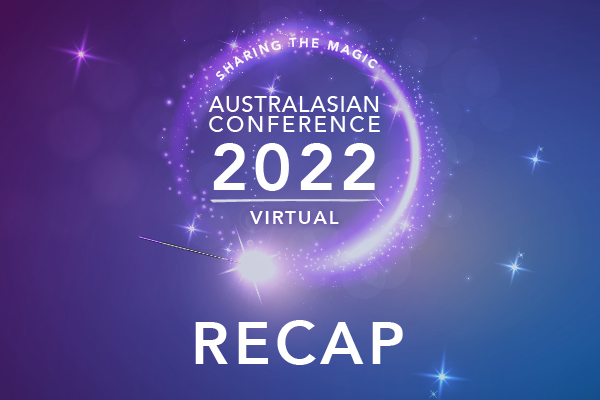 2022 Australasian Conference Recap
Wow! What a Conference we had!
From the special Mannatech theme song that opened the event to industry experts, amazing speakers, the 2022 Australasian Travel Incentive reveal, recognition and celebration of your achievements, and so much more!
The first 90 days after an event are critical to your ongoing success so now is the time to put everything you learnt to good use and to start embracing those opportunities.
It's time to be strategic with your focus and what you action in those next 90 days, beginning with Connecting with your Why!
So to kick things off, let's 'Share in the Magic' of what we experienced at the 2022 Australasian Conference, and the many and exciting opportunities presented to you.

Share in the Magic of the 2022 Conference
With another year of moving this to a 'Virtual' Event, we promised you excitement, learning, motivation, fun, laughs, inspiration, giveaways and heartfelt moments of Celebration. Thanks to you – our Associates, US Corporate Team, SongDivision and some amazing keynote speakers, we were able to bring to life what we promised. It was truly an event to remember.
Taking us on this journey, were your co-hosts Jenny Messenger, Executive Director Australasia and Chris Simons, Regional President EMEAA, Central and South America.
So, let's recap…

Speakers, Training and Important Messages
We opened Conference with a thought-provoking video "The Art of Possibility" where Ben Zander provided us with a life-altering approach to fulfilling dreams large and small. He invited us all to become passionate communicators, leaders, and mentors whose lives radiate possibility into the world. Empowering us by sharing a breakthrough paradigm for Leadership, Relationships, and a Life of Possibility
Dr Adam Fraser – Human Behaviour Researcher
What an amazing 90 minutes we had with Adam on The Psychology of Courage and saying No Thanks, Kevin.
Some of the highlights of this session, coming to understand our Evolution Points. By identifying and working through our e-points, we have an opportunity to develop our skills, become more masterful, grow and evolve.
Some of those common e-points:
Having hard conversations
Holding yourself and others accountable for taking action
Calling people on bad behaviour
Making changes & putting yourself out there
Admitting you are wrong and apologising
In this moment are you moving towards what's important to you or away? Have you been able to say No to Kevin more often?
"Discomfort is the price of admission to a meaningful life" Susan David

The 30 60 90 Day Smoothie Challenge Winners
For our marketing update segment, Sarah Wardrop – Marketing Director, Mannatech Australasia, took us through the highly successful 30 60 90 Day Smoothie Challenge. Not only did we get to see some of the amazing smoothie creations from the challenge, we also celebrated all the winners and honourable mentions. The Grand Prize Winner of $1000 AUD gift card was announced as Kelly Ellen who had been a consistent contributor with her creative recipes.

Building an International Business, Luciano Fidalgo – Gold Presidential Director
We were inspired by Luciano Fidalgo, a seasoned Associate in Mannatech with a lot of experience in this industry and businesses on every Continent. Who better to hear from on Building an International Business and the opportunities available to us in not only existing but also new market opportunities?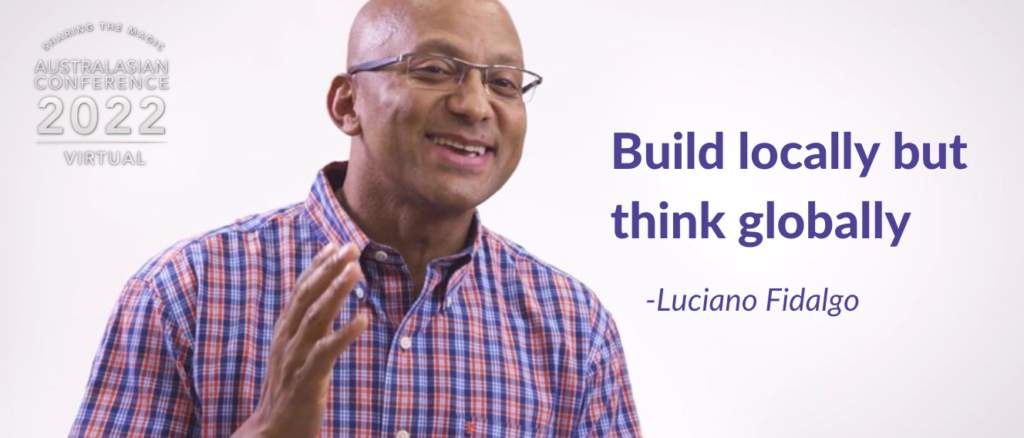 His top tip – the fastest way to build an international business is to build a local business. Your local connections help you to build and grow internationally (build locally but think globally)
His lasting thought, "stop thinking like an employee and think like a Business Owner" echoed by Chris Simons, "If you treat this business like a hobby, it will pay you like a hobby".
The 90-day Commitment, Landen Fredrick – Chief Global Officer and President, North America Mannatech Inc
With the power of our products and the power of YOU, this is the 'time' and this is the Mannatech moment to change lives.
He mentioned that despite the challenges of 2020 and 2021, you proved to be resilient and creative. You adapted, reinvented and committed to taking your businesses to new levels of success.
Are you willing to give 90 days of one-hundred percent effort to change everything?
Commit to spending every minute for 90 days on income-generating actions. At every moment, do what you are meant to do instead of thinking of all the things you are missing. Team up with another associate who shares your passion for this business and for the life-changing benefits that comes from this all-in approach.
At the 30-day mark and 60-day mark, celebrate the milestones with the ones you love and at 90 days do something BIG to celebrate.
Do the challenge for 90 days, and you'll rock your Mannatech world.
"Never, ever, give up…things work out in the end, and, if they don't, it's not the end."
Dr Nugent – Chief Health and Nutrition Officer, Mannatech Inc
Dr Nugent did a wonderful training on Omega 3 with D Vitamin. A great tool moving forward and available to you here.
Gill Stapleton – CEO, Direct Selling Australia
Gill joined us to share her thoughts and insights on initiatives being rolled out within the industry… and re-iterated how important being a part of the DSA was for Mannatech.
Wendy Lloyd Curley – Entrepreneur, Author, Speaker and Trainer
Wendy shared with us the value of connecting and building relationships and just how important it is to build a strong referral network.
PD Panel
What a wealth of knowledge, experience and personal Mannatech stories shared by our PD's during this special PD panel, hosted by Chris Simons.
Thank you to:
James Hannan – Silver Presidential Director
Mark White – Bronze Presidential Director
Judy Abbott – Bronze Presidential Director
Naomi Joy – Presidential Director
This segment was so well received and provided us with a dose of inspiration. A segment we'll look to repeat each year.
Take a moment to listen to the recording and the valuable lessons these top Leaders learned. It might just help you accelerate your path to Presidential Director.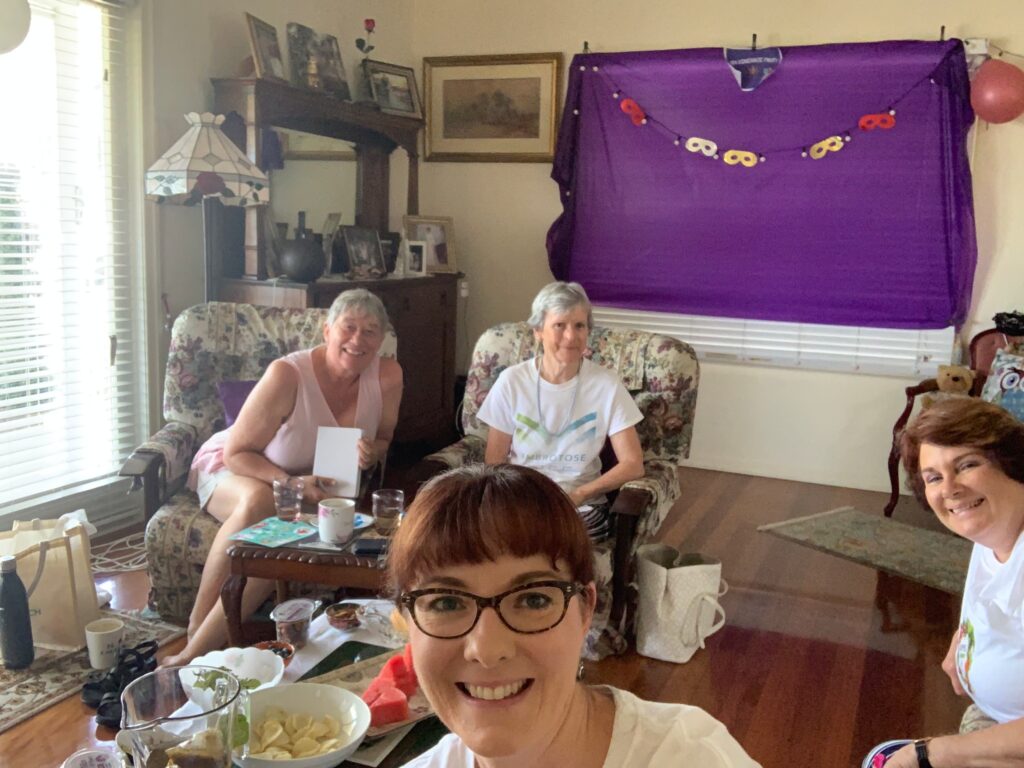 Your Speakers in the Field
What an amazing group of individuals we had the pleasure of listening to. Each sharing their unique story and experience with Mannatech and building their business.
Thank you to:
Lizanne Du Plessis, Silver Executive Director, Highest Level Achieved
Lizanne shared how she successfully began her Mannatech Business in South Africa and has also managed to continue building since moving to New Zealand. Her goal is to help people become a 'better version of themselves. For Lizanne, being able to see the possibilities of this business, all comes down to having a positive mental attitude. her positive mindset is a big contributor to her success. "How will you see 2022? With a glass half empty or half full mindset?".
Michelle Davey and Bronwyn Sheraton Gray, Silver Director and Silver Executive Director, Highest Level Achieved
As our winner of the Sprinters Award, Michelle spoke with her upline, Bronwyn Sheraton-Gray and shared with the audience, what drew her to Mannatech and how she got started. It didn't take long for Michelle to see the opportunities this business presented. The Mannatech opportunity has enabled Michelle to continue with her passion for helping people manage their Health and Wellbeing. Michelle has flourished on the motivation of helping others and the opportunity the Queenstown Travel Incentive brought. She has never renewed a passport so fast.
What an incredible first 12 months she has had.
"Regardless of where you are on this journey, you can choose to set a goal of a Leadership Rank and move towards it. Just plug into the incredible resources we have available to us, think positive and be consistent ".
Paula Khouri, Gold Executive Director, Highest Level Achieved
Paula shared her experience of the last two years, particularly the last 12 months as she maintained a positive attitude, stayed focussed on her goals and not only achieved but exceeded them. By remaining positive during a challenging time, she was able to see all of the possibilities this business has to offer and in her words "Mannatech is GOLD".
Bella Yu and Vincent Kusumo, Gold Executive Director and Silver Executive Director, Highest Level Achieved
What a pleasure it was listening to our Dynamic Duo, Bella and Vincent share why Mannatech is the biggest opportunity in their life. It was inspiring learning how Bella and Vicent shared how they work with their upline and contacts to build a strategy around achieving the Incentive. They also revealed what led to them achieving their first Australasian Incentive Trip last year to Uluru, and, the 2021 Travel Incentive to Queenstown.
COVID lockdowns didn't stop them, they revisited their strategy and refocussed connecting with people on zoom across multiple states and countries. Their focus for this year, bringing their team along to the 2022 Travel Incentive. After all, why wouldn't you want to enjoy a trip that pampers you with 5 Star experiences in celebration of your hard work and continued business growth?
To share a favourite quote of theirs "It's the possibility that keeps us going".
Naomi Joy – Presidential Director
As a Senior Leader in the Australasian Field, multiple award winner and most recently your 2020 and 2021 Business Builder of the Year, we had a captive audience as Naomi kicked off by congratulating YOU for standing firm during this challenging time. For being here for Conference and being present, that's a credit to you. "You're stronger than you know and more powerful than you realise".
Did you take notes and write your action steps for the 8 Key Points shared?
Change your frame of mind.
Accept responsibility for yourself.
Don't be afraid, take a risk.
See every failure as a learning opportunity.
Separate the factors from what you can control to what you can't control.
Set your priorities.
Actively look for opportunities.
Protect your spirit.
What actions are you taking now and over the next 90 days?

Magic of M5M Team Challenge
Conference 2022 gave us an opportunity to thank our 3 M5M Team Challenge competitors, who through some friendly competition managed to raise a total of AUD$1,681 for the M5M Foundation.
Congratulations and thank you to:
Team RISE
Team CONNECT
Team Marika
Special THANK YOU to Team Rise for raising the most amount of money as a team.
Event Highlights
At the 2022 Conference we had the absolute pleasure of recognising and celebrating your many achievements throughout 2021, including your 2021 Mini-Break Promotion winners. So let's take another look now at our winners at each level.

Announcing Our 2021 Mini-Break Promotion Winners
Pipis Winners
Winning – UTH Spa Bundle
Scallops Winners
Winning – UTH Spa Bundle + AUD$500 Gift Card
Gaelene Wallace
Bronwyn Sheraton-Gray
Colleen Ryan
Kristy Sapwell
Pauas Winner
Winning – UTH Spa Bundle, AUD$500 Gift Card + Trip for 1 to Sanctuary Cove
Naomi Joy
Pearls Winner
Winning – UTH Spa Bundle, AUD $500 Gift Card + Trip for 2 to Sanctuary Cove
Paula Khouri
Virtual Happy Hour with SongDivision
One of our favourite parts of Conference was being entertained by SongDivision and co-creating a memorable Mannatech Family Song. So, sit back, relax and enjoy the creation of your lyrical genius during your 'Virtual Happy Hour'. A great reminder of how much fun we had and if you listen closely, you may just hear your name…

Launch of the 2022 Travel Incentive Trip
At the Australasian Conference, it is a continuous tradition that we reveal the next Travel Incentive Destination, and this year was no different!
Taking off in their hot air balloons, Jenny Messenger, Executive Director Australasia and Chris Simons, Regional President EMEAA, Central and South America, headed out on a journey to find the destination of the 2022 Australasian Travel Incentive.
With their binoculars locked on the destination, and a safe landing taking place, Hobart, Tasmania was revealed as the destination of the 2022 Travel Incentive!
Incentive Period: 1st March – 31st December, 2022 (10 months)
Travel Dates: 21st – 27th March, 2023
Venue: MACq 01 Hotel, Hobart Tasmania
Watch this space for more information to come on your extended travel incentive period!
2021 Gala Award Winners
2021 Gala Award Winners
What makes the Australasian Conference so special is the much anticipated Gala Awards Night. This year held virtually, but with just as much excitement as previous years. Let's take the time to recognize and celebrate our 2021 Award Winners.
Best Business Building Practice Awards
Top Associate enrolments with AO conversion of 75% +
Top Customer Enrolments with AO conversion of 60% +
Fun Awards