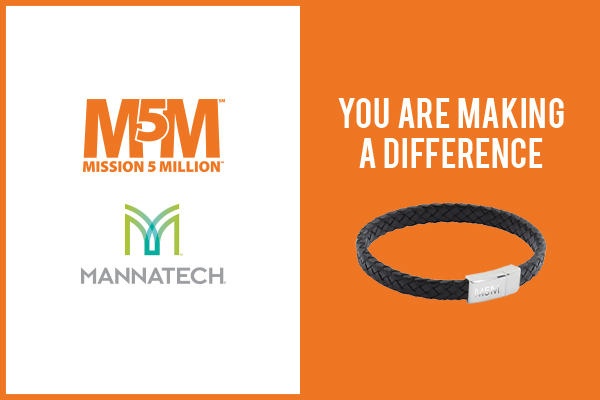 Contribute to the M5M Global Cause
The M5M Foundation (Mission 5 Million) represents our mission and vision of linking five million consumers with five million children in need. The Mannatech Community can now contribute to the M5M Global Cause.
Malnutrition impacts the lives of 55 million children at any given moment. According to the World Bank and UNICEF, roughly 100 million children under the age of five, are underweight and over 150 million children in developing countries are malnourished.
Under-nutrition can hinder brain development, reduce intellectual capacity and stunt growth.
Current food programs designed to help children are mainly cereal-based and lack many of the nutrients they need. In fact, fortified, blended flours no longer meet the minimum nutritional criteria for young children set by experts at the World Health Organization.
Give Back
Contribute to the M5M global cause. With EVERY Mannatech product purchase, a donation is made to M5M which supplies nutrient-rich PhytoBlend to children in need. For every $100 spent on Mannatech products, a one-month supply of PhytoBlend powder is donated to help nourish a child in need. Build your Mannatech business and become a social entrepreneur.
Change your life and the life of others with better health and wellbeing. Follow these 3 easy steps to make a difference to children's nutrition.
CONSUME – Consume Mannatech products for your personal optimal health and help nourish a child in need. Earn loyalty credits towards FREE products.
SHARE – Share Mannatech products with others and earn extra income which will help nourish more children.
BUILD – Build your own Mannatech business. As a Mannatech Associate, you make a difference to more children and help more people by sharing Mannatech products. You also earn more rewards, creating a life of significance.
M5M Cause – Regional Updates
At the 2021 Virtual Australasian Conference, we gave you the opportunity to contribute to the global cause and launched our 'Step Into the Spotlight for M5M' Fundraiser which raised over $735.00.
During the virtual event, we also introduced the brand NEW Australasian Exclusive M5M Band. A simple, plaited, leather-look band with a magnetic stainless steel clip, engraved with the M5M logo.
Whilst the M5M Fundraising drive is now closed, we will continue to have an M5M Fundraiser for every event in 2021, AND, you can still make a difference by purchasing the new M5M band, exclusive to the Australasian market.
By wearing the M5M band and sharing the M5M mission you are actively helping the M5M Foundation combatting the effects of global malnutrition. When you buy the M5M band, you are providing food-sourced supplements to children in need.
For EVERY purchase of this wristband, Mannatech Australasia will give a direct donation to the M5M Foundation. For Sale now on the website for $10.00 AUS/NZ/SING
See the updated M5M Brochure here:
M5M Brochure