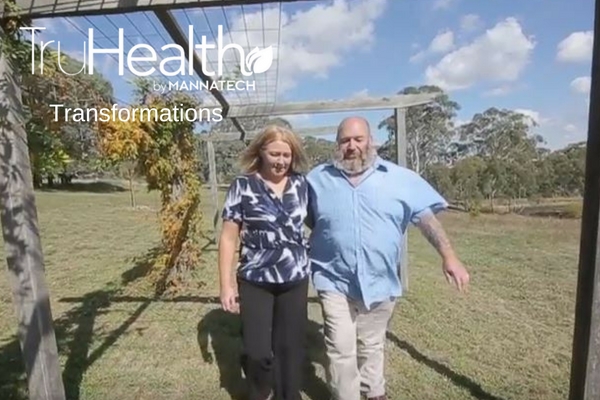 A Heart Warming TruHealth Transformation Story!
One of the most heart warming stories that has come out of the launch of TruHealth in Australasia has been from Father and Daughter, Cerisa Riley and Michael Bennett.
Living in regional NSW, Cerisa was introduced to the products by National Director, Melissa Humphris and decided to give the program a try with her Dad Michael.
Michael had existing health issues, and was unable to leave the house. Since starting on the TruHealth program, he has lost 28 kilos and has been able to do the things many take for granted, such as mowing the lawn and taking his Grandson for a walk.
Cerisa has lost 24 kilos on the program and feels amazing! She has also learnt new healthy eating habits that she has been able to pass on to her children.
Together they have been able to keep each other accountable to stay committed to a new healthier life!
Watch their inspiring story below.
Mannatech's TruHEALTH Fat-Loss Program is a versatile program designed to help you reboot and lose fat with the power of real food nutrition. This program combines beneficial, whole foods with naturally sourced supplements and exercise to encourage fat loss, weight management and to help you establish healthy lifestyle choices during the next 30 days and beyond.
TruPlenish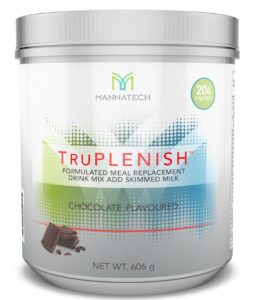 The TruPLENISH Shake is one of the core components of our program. It is different from competitor shakes in that it's a plant-based, complete meal replacement full of naturally sourced vitamins, minerals, probiotics, Glyconutrients and over 20 grams of protein. It's a good source of fibre, keeping you feeling fuller for longer and it comes in delicious chocolate and vanilla flavours. Replacing one or two meals a day with a TruPLENISH Nutritional Supplement Shake will enable you to easily reduce your calorie intake without sacrificing nutritional needs.
Once you've reached your goals, continuing to incorporate TruPLENISH Shakes into your daily meal plan will help you cut the fat and maintain your new body shape!
Benefits
Helps reduce feelings of hunger and increase satiety
Promotes healthy fat-loss, for a healthier, leaner body
Promotes healthy digestion
Helps you look and feel better
Features
Comes in chocolate and vanilla
Contains real fruits and vegetables such as blueberries, cranberries, kale and spinach
Contains Glyconutrients through aloe vera extract
Suitable for vegans/vegetarians
Gluten and Soy free
Free from dairy or dairy-derived ingredients
Free from MSG
Replace one or two meals a day with TruPlenish
TruPure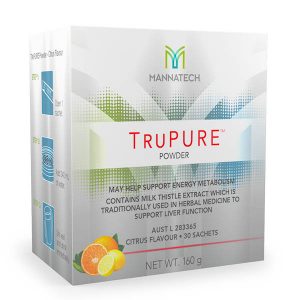 TruPURE is a foundational part of the Mannatech's TruHEALTH 30-Day Fat Loss System.
When taken in conjunction with a reduced calorie diet and regular exercise.
Mannatech's complete, nutritional cleansing drink mix is formulated with natural
ingredients to help support your body's ability to cleanse or diminish toxins that can cause oxidative stress.* Unlike many cleanses, TruPURE Sachets aren't a laxative or diuretic. They are essential for Cleanse Days when used in conjunction with the TruHEALTH 30-Day Fat-Loss System and can be used as an everyday drink, providing Glyconutrients, botanical antioxidants and support for healthy detoxification.*
Benefits
Promotes complete support (purification/cleansing aids the body's vital organs in performing more efficiently)*
Are formulated to support the removal of impurities from all major organs to help support overall health*
Promote healthy weight management, for a healthier, leaner, younger-looking body*
Support a healthy metabolism*
Support detoxification in the liver and at the cellular level*
Support anti-aging via antioxidants and toxic defense*
Provide total body support*
Support healthy body composition*
Features
Contain natural ingredients
Are naturally gluten-free
Are suitable for vegetarians
Are free from dairy or dairy-derived ingredients, soy, MSG, artificial flavours, artificial colours
Take 4 TruPure sachets on cleanse days and 1 on nourish days.
TruSHAPE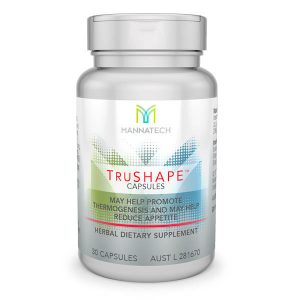 TruSHAPE capsules provide a naturally powered, stimulant-free metabolism boost. This thermogenic (a fancy word for "producing heat") product supports the stimulation of fat oxidation when used in conjunction with a healthy diet and exercise.
Benefits
Help boost your metabolism*
Support appetite control*
Help reduce body fat*
Promote healthy weight loss for a healthier and leaner looking body*
Promote greater calorie burn*
Promote greater energy levels*
Features
Naturally powered
Stimulant-free
Free from common allergens such as dairy and gluten
Suitable for vegetarians
Support healthy body composition*
Does not include ingredients that were produced using biotechnology
Free from dairy or dairy-derived ingredients, MSG, artificial flavours, artificial colours and sweeteners
Take 1 TruShape each day
Visit Mannatech Shop to purchase TruHealth products.