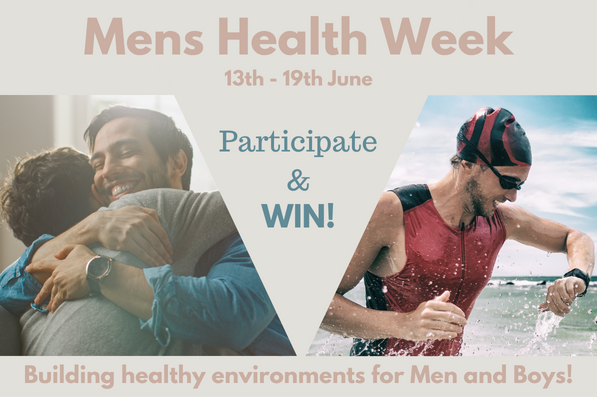 Building healthy environments for Men and Boys!
13-19 June 2022
We ALL have at least one special man or boy in our lives, right?
A father, husband, brother, nephew or special male we have crossed paths with & adopted into our lives!
Let's celebrate them this Men's Health Week and learn more about the unique challenges they face, the importance of men's health and what we can all do to help support them.

Being a part of Men's Health Week is one of the best ways of recognising and celebrating the resourcefulness, determination, wisdom and courage of Australasian men in their efforts to build healthy environments. It is an opportunity both to celebrate the good things that men and boys bring to our society as well as to shed light on the health and wellbeing issues they face.
Did you know there are many medical and social factors that impact on the physical, social, emotional and spiritual health of all Australian men and boys?
These include the changing social and economic roles and loss of male identity; changing notions of men's roles in society and families; relationship breakdown; racism; homophobia; negative attitudes towards disability; a propensity to specific life-threatening diseases and injury; mental health issues including depression, anxiety and suicide; unemployment, low wages, working patterns and hours, fathering and the issues for separated fathers; as well as services which are lacking in responsiveness to men's health needs.
Have you considered that men and boys face different health and wellbeing concerns than women and girls, AND, the different challenges faced among the varying age groups from young boys to teenage boys, young men to middle-aged men and so on?
Men's Health Week is an opportunity to both acknowledge their differences and look for ways to improve the health and wellbeing of men and boys throughout Australasia.

What are we doing to help celebrate YOU, our men and boys, while also helping to bring attention to Men's Health?
Over the last couple of years we have encouraged you to take part in, or create your own events, and 2022 is no different. This year though we are taking it a step further.
We want to learn more about and connect with YOU, or the boys and men in your lives, while also spreading the important information about Men's Health.
This year, we want to learn more about YOU, or the boys and men in your lives. By taking part in our daily challenges and discussions on Facebook, you get to share your experiences, your unique knowledge, stories and photos, all while raising awareness of the importance of Men's Health. You can take part in our challenges via our Mannatech Business Australasia Private Group Facebook page or the Mannatech Australasia Official Facebook page.
These daily interactions will include:
Polls
Sharing images
Answering questions
Starting discussions
Sharing ideas and experiences
Interesting statistics
Just by taking part in the first challenge and submitting a short video, you are automatically entered into a competition to win 1 of 3 Prizes that can be enjoyed by you, shared with your mates or the special men/boys in your life.
Your video challenge should you choose to accept it:
In two minutes or less, share with us
a) What does Men's Health Week mean to you and why is it important to support? and,
b) How do you share the importance of Men's Health Week with your son or an important young man in your life?
Post it to your Facebook page & tag us or post it in the Mannatech Business Australasia Private Group Facebook page or the Mannatech Australasia Official Facebook page.
This challenge is open to all and videos can be submitted at any time during Men's Health Week, but by midnight on Sunday 19th June.
Then, you just need to participate in as many of the other posts as you like.
For full details on how to join, the prizes you can win and how to be involved, view here.

Other ways you can show your support:
Join Men's Health Week and actively organise an event in your local community. For an overview of men's health in Australasia and great information on event organisation, Download Men's Health Week Booklet
Register your event on the Men's Health Website and get the word out.
Ideas on how you can participate in Men's Health Week 2022
Create a fundraiser for a Men's Health cause.
Encourage your local community to talk about Men's Health. It can be as simple as encouraging your leisure club, Mannatech team, church, or work to have a special focus on Men's Health.
Bring your co-workers, Mannatech team or neighbours together to be healthy and active – group walk or hike
Get your group of male friends together simply to catch up
Creating a fundraiser for a Men's Health cause
Fundraising is a great way to support Men's Health Week and the opportunities are endless. Do it yourself, or get together with your Mannatech team. Create your own fundraiser or select a cause in men's health that is close to your heart.
Below is a wonderful list of men's health and wellbeing websites that may help you make your decision:
Australian Men's Sheds Association
National site for information on men's sheds and a locator to find a men's shed in your area.
Men's Health Week NZ
National site for information on Men's Health Week in New Zealand.
Australasian Men's Health Forum (AMHF)
AMHF is the national peak body implementing a social approach to improving male health and wellbeing. AMHF conducts the National Male Health Gatherings every two years.
Dads and Daughters
Uncle Project
Mentoring for youth website
Foundation 49 – Men's Health organisation (49% of the oz population are men)
Menalive – website of Jed Diamond, USA men's health expert in Irritable Male Syndrome, Male Menopause, and Male Depression
Mensline Australia
24/7 telephone helpline 1300 78 9978. Has a good range of resources on their website.
Men's Health Australia – National web portal for issues relating to men's health. Provides a range of resources and reports on men's issues.
http://www.menshealthaustralia.net/
Men's Health SERVICES
Australia's leading men's health consultancy service providing men's health and wellbeing programs, men's workplace health and wellbeing programs, professional training programs for health, welfare and community workers around effective engagement with men.
http://www.menshealthservices.com.au
One in Three
The One in Three campaign aims to raise public awareness of the existence and needs of male victims of family violence and abuse. The aim is to work with government and non-government services to reduce the incidence and impacts of family violence on Australian men, women and children.
Aboriginal Men's Health
Andrology Australia
http://www.andrologyaustralia.org
The Black Dog Institute
is a not-for-profit, educational, research, clinical and community-oriented facility offering specialist expertise in depression and bipolar disorder.
http://www.blackdoginstitute.org.au/
Cancer Council
http://www.cancercouncil.com.au
Department Of Veterans Affairs – Men's Health Peer Education Program
The DVA Men's Health Peer Education program brings men's information through peer-to-peer networks.
http://www.dva.gov.au/mhpe.htm
Gay and Lesbian Telephone Counselling and Community Services
Child Support – Department of Human Services
http://www.humanservices.gov.au
There are countless platforms you can use to raise money for your own cause. Some, like Givebutter, even allow for team fundraising, where you can compete with your Mannatech team on who collects the most money. You could even compete against other Mannatech teams.
Take the opportunity this Men's Health Week 2022 to learn as much as you can and share as much as you can. If we all come out with greater awareness and understanding of Men's Health, what a difference we can make.