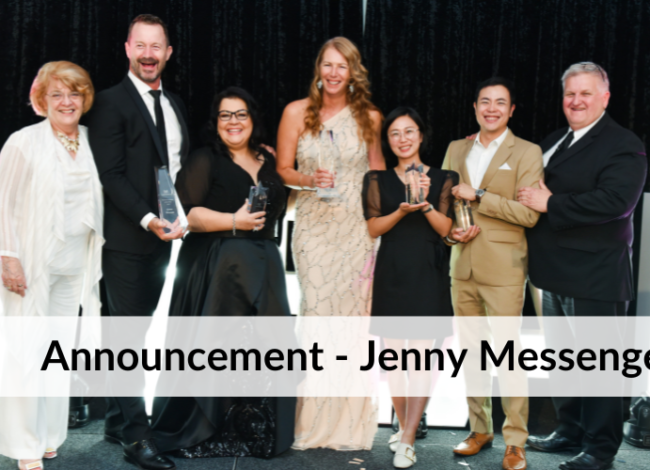 Mannatech Executive Director, Jenny Messenger, announces retirement
It is with a mix of sadness and excitement that we share Jenny Messengers decision to retire from her role as Executive Director, Mannatech Australasia & her 40+ year career in the Direct Selling industry.
Whilst this was a difficult decision, Jenny has decided that the time is right to start a new chapter in her life, enjoy more time with family and friends, travel, focus on her new home and enjoy everything she has worked so hard for during her career.
Jenny joined Mannatech in 2018 with a great enthusiasm and passion for this industry and was recognised for this by receiving a DSA Life Membership in 2021 after serving as a DSA Board member from 2010-2017 and the second female DSA Chair from 2012-2014. Life Membership recognises individuals who have given outstanding service to the Direct Selling industry and our Association.
In the last few years Jenny has led Mannatech Australasia through a number of challenges, flood, fire & a pandemic. She has been a source of stability during this time both for the Corporate team and in the Field and her focus has always been on helping others to be successful. She'll be the first to tell you that some of her most special career highlights are standing on stage recognising others outstanding achievements, not to mention some amazing Travel Incentive experiences also.
Those who know Jenny well can attest to her other passion, philanthropy, and we're excited to share that she will be volunteering some time to help our M5M efforts in Australasia so that we can increase our visibility here and truly start to do some of the activities we have been trying to bring to this region for some time. We look forward to sharing more on this as and when we can.
As Jenny is in the middle of moving house right now, this change will take effect immediately and on behalf of the Mannatech family, we thank her for her contribution to our Australasian business and her dedication to the industry as a whole.
We wish her every success & happiness in this next exciting chapter of her life.