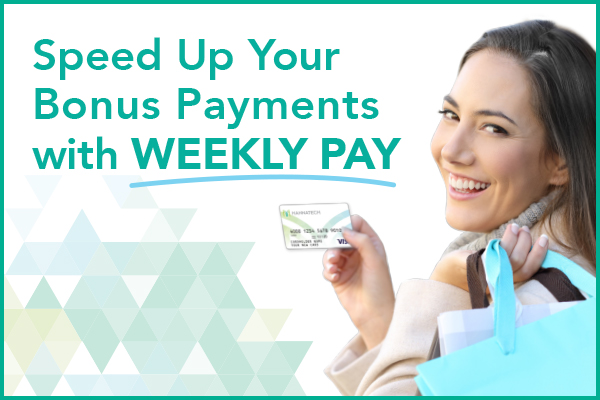 Speed Up Your Weekly Payments with Weekly Pay…..
Mannatech is introducing Weekly Pay to our Associates.
The following bonuses are eligible for Weekly Pay:
First Order Bonus (FOB)

Business Development Bonus (BDB) – Team 2 & Team 4

Note: All other payments and commissions will be paid monthly as usual.

You can now subscribe for Weekly Pay which comes into effect 1st March , 2020. All bonus payments are subject to qualifications. Weekly payments begin a couple of weeks after you sign up and weekly thereafter. But you must have a Mannatech Pay account and subscribe to be eligible!

Here are 3 simple steps to subscribe to Weekly Pay:
Log on to your mannatech.com Back Office account and go to My Business. Select My Commissions. Click Request Mannatech Pay now to sign up for a new account (if you don't have one). Once you add your account information, simply check on 'Subscribe to weekly pay.'

For existing Mannatech Pay accounts, go to My Commissions and look for the 'Weekly pay subscription' option.

Click 'Subscribe to weekly pay' and select the button SETUP WEEKLY PAY. You may remove your subscription at any time by clicking 'Remove Weekly Pay subscription.'
After a couple of weeks, you'll start seeing your eligible weekly bonus pay rolling in.
Be aware, your qualifying bonus activity must be submitted by end of day on Thursday to receive your pay the following Friday. Weekly Pay is subject to commission recoupment and may be affected by bank holidays and other factors.
Want to learn more? New information will be added to this link as available:
Mannatech Pay Overview
Manantech Weekly Pay FAQ
Mannatech Pay FAQ
Keep up the Momentum!
Your Mannatech Team