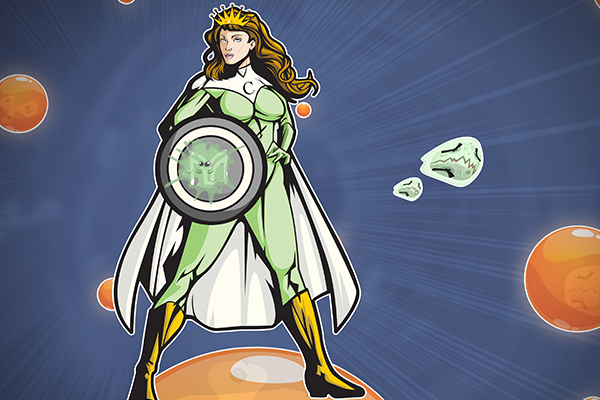 Meet the Queen of Immune Defence!
Our bodies are constantly exposed to a range of factors that can make an impact on our health. Our immune system is our main defence against these factors, providing a forcefield of protection that helps to keep us fighting fit.
We need good nutrition to help keep our immune system strong and resilient. This includes a good daily dose of Vitamin C.
Meet one of the key members of Mannatech's Wellness League of immune health defenders. The queen of immune defence, Vita-Queen!
Vita-Queen is an important support member for your immune system, sourcing vitamin C from various sources including the acerola berry, considered to be one of nature's richest sources of vitamin C. One dose of Manna-C supplies your body with 65% daily recommended intake of Vitamin C to help keep your body's natural defences strong1.
Key features and Benefits
Includes a real food source of vitamin C to work well in the body
Antioxidant support
Product of Australia
Exclusive formulated nutrition technology
Highest quality ingredients
Manufactured in a TGA approved facility that adheres to the highest Good Manufacturing Practices
90 day, 100% Satisfaction Guarantee
Our body appreciates nutrition that is real. In addition to all the benefits above, Manna-C™ capsules include naturally sourced ingredients, so you'll get more out of the ingredients in each capsule!
Add Manna-C™ capsules to your next order and get royal treatment for your immune system today.
1 Daily recommended intake for an adult is 45mg according to Nutrient Reference Values set on Australia & New Zealand. Source: https://www.nrv.gov.au/nutrients/vitamin-c