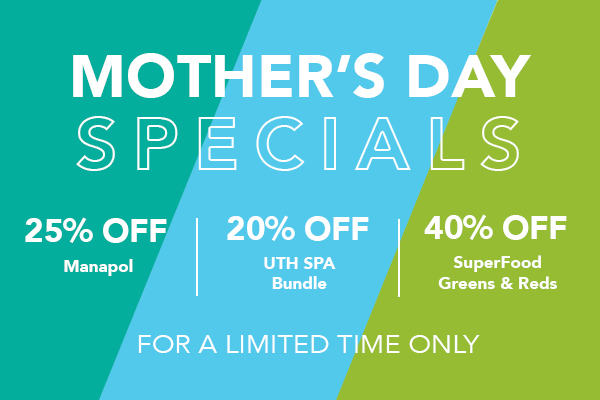 Having a mum, or a mother figure in your life is something to be treasured. So why not treat her to something special on Mother's Day, sunday 9th May. Help us celebrate all the Mums, Nans, Grans, and special women in our lives. Having your mum, or a mother figure in your life is something to be treasured. They influence us in many ways throughout our lives and take care of us no matter what. So why not treat them to three special Mother's Day promotions.
To celebrate Mothers Day, we have three limited edition promotions just for you. All specially selected to make Mother's Day not only extra luxurious but healthy too! Check-in with her health and wellness, support her immune system and supercharge her wellness. Available for a limited time!
Uth Spa Bundle
Treat the special women in our lives with the very best ingredients from Mother Earth. Mannatech's skincare technologies are based on some of the finest natural ingredients in the world. The high-quality plant-based ingredients in our Uth 3 Step Skincare Series have been selected to provide unique moisturising and age-defying benefits.
Uth Spa Bundle 20% Off
Bundle Includes:
1 x Uth Cleanser
1 x Uth Rejuvenation Creme
1 x Uth Moisturizer
1 x Mannatech Soy Candle
1 x Chiffon Bag
1 x Uth Brochure
Associate Price: $182.00 AU/ $199.00 NZ/ $204.00 SING
PV: 180
Available: 15th April – 31st May 2021
Available on all orders (Automatic and One-time)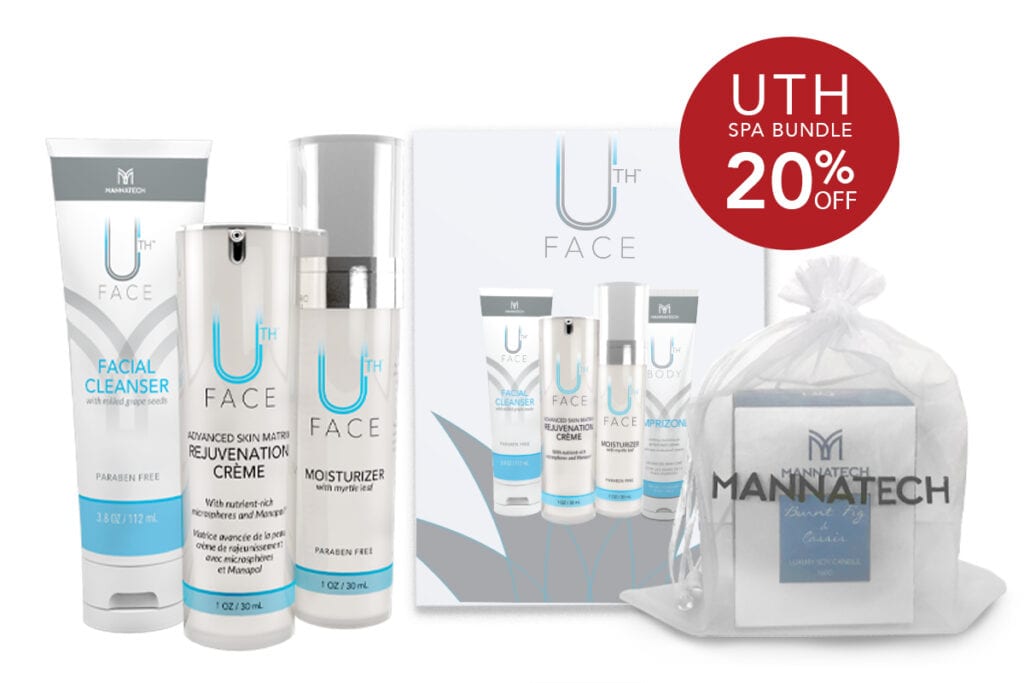 Uth Resouces
Uth Brochure
Uth Rejuvenation Creme Product Description Sheet
Uth Moisturiser Product Description Sheet
Uth Cleanser Product Description Sheet
Manapol For The World – Immune Support for All
The passion and commitment to healthy immune function connect each of us, no matter where we call home.
To celebrate our global Mannatech Community, we are offering a Manapol special.
Manapol, a premium 100 percent aloe-based supplement formulated to support cell to cell communication and healthy immune system function.
It is also an excellent source of glyconutrients and is rich in acetylated mannans, or acemannan. The key bioactive ingredient found in the inner leaf gel of the aloe plant, acemannan is the primary component to the power and efficacy of the aloe-based glyconutrients in Manapol. It has never been easier to get the benefits from the purest and most potent aloe vera in the world. *
Manapol For the World Bundle
Purchase Manapol and receive 25% Off.
New Zealand and Singapore Associates receive 30% Off.
Associate Price: $199.00 AU/ $224.00 NZ/ $210.00 SING
PV: 180
EXTENDED UNTIL 31 JULY 2021!
Available on all orders (Automatic and One-time)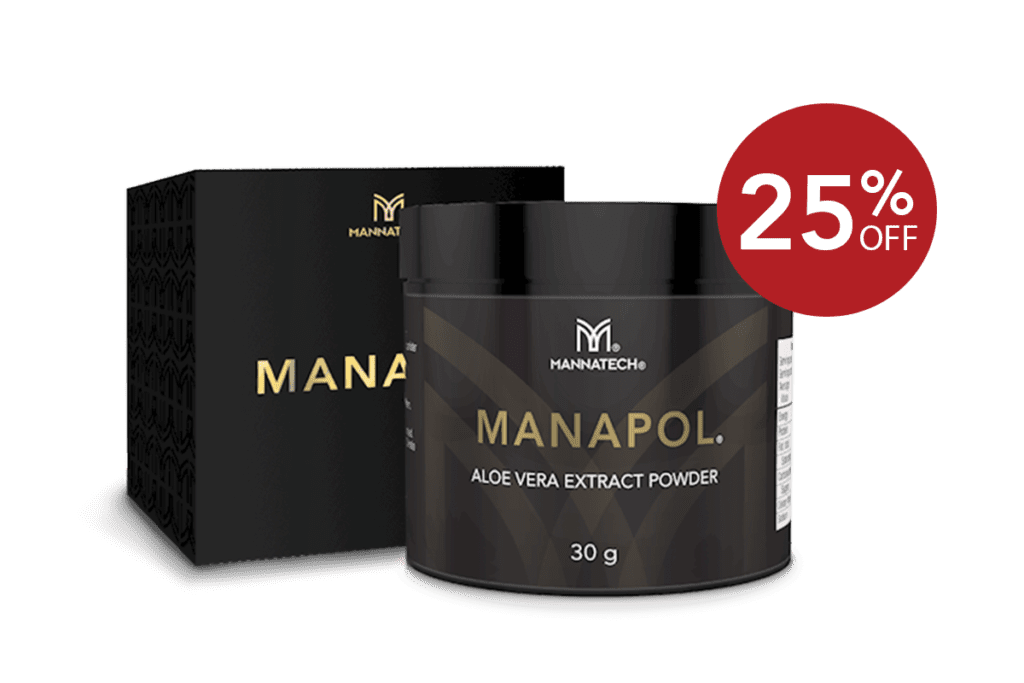 Manapol Resources
This is Manapol
Manapol (The World's Greatest Aloe) Flyer
Manapol Product Description Sheet
SuperFood – Greens and Reds
Sometimes, when you can't always get your 5 fruits and vegetables in your daily intake, grabbing a SuperFood Greens and Reds in the morning has multiple health benefits that last throughout the day. Make SuperFood Greens & Reds part of your daily regimen with sixteen fruits, vegetables, vitamins, and nutrients, fortified with powerful antioxidants and amino acids in every serving. Pure, plant-based, nutrition… just add water. *
Superfood – Greens and Reds – Twin Pack Receive 40% off
2 x Superfood Greens & Reds
Associate Price: $99.00 AU/ $104.40 NZ/ $98.60 SING
PV: 140
Available: 15th April – 31st May 2021
Available on all orders (Automatic and One-time)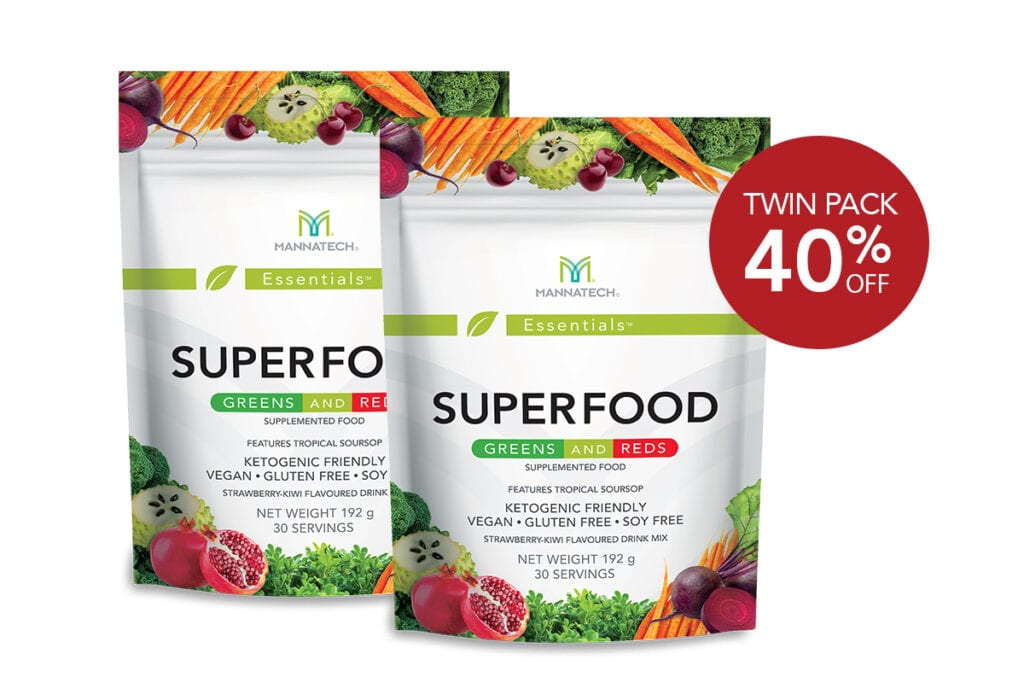 Superfood Resources
Superfood Greens and Reds Brochure
Superfood Greens and Reds Product Description Sheet
Product Focus: Mannatech Essentials™: SuperFood
*These statements have not been evaluated by the Therapeutic Goods Administration. This product is not intended to diagnose, treat, cure or prevent any disease