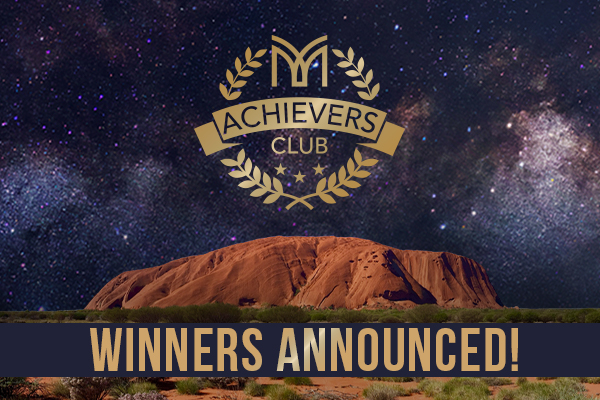 Congratulations to our 2020 Achievers
We are so excited to announce, that the 2020 Achievers Club Winners have now been confirmed!
Mannatech Australasia would like to officially congratulate all of our achievers who have successfully earned the incentive trip. You have all risen to the challenge and we continue to be excited by what you have accomplished during the 2020 Incentive Period.
For our Amazing Diamond Achievers who reached 25,000 Incentive Points and beyond, we would like to say a special congratulations. Your achievements have been spectacular. Please join us in congratulating Naomi Enevoldson and Bronwyn Sheraton-Gray. Both will be spoiled with a luxurious Diamond Experience during our trip to ULURU in March 2021. Naomi Enevoldson was also our Top Achiever for the 2020 Achievers Club Incentive.

A special congratulations to our Platinum Winner, Paula Khouri, who excelled at creating new opportunities for her business.
We are truly inspired by the success of so many that set and achieved goals during a time of great change, while also positively impacting business growth, not just during this period, but on a long term basis. Well done!
2020 Diamond Experience Achievers
Naomi Enevoldson
Bronwyn Sheraton-Gray
2020 Platinum Achiever
Paula Khouri
2020 Gold, Silver, Bronze Achievers
Judy Abbott
Leigh Elliott
Sharon Hammond
Janelle Jones
Penny Keen
Vincent Kusumo
Judy McCarthy
Sandy McCloskey
Kristy Sapwell
Sandra Spence
Karen Stacey
Margaret Yule
Gaelene Wallace
Churnjit Wannasuntorn
We are excited to announce that ALL Winners have been confirmed and if you have reached this significant milestone you will have received a personal recognition email from Australasia's Executive Director, Jenny Messenger, AND, have a special delivery coming to your door! Look out for this in the next few days.
Congratulations on your success and your achievements. We look forward to 'celebrating you' in person in Uluru in March, 2021.
Please help us celebrate and join us in congratulating them all
"Dream Believe Achieve" in…
ULURU
Northern Territory
Travelling March 2021
The new Achievers Club 2020 destination was launched on our Achievers Club Call last night! Jenny outlined a whole swag of extras that our Achievers will receive!
Congratulations to all those who participated in the Achievers Club for 2020. Our Incentive Period finished 31st July 2020, after an inspiring sprint to the finish line!
Our high achieving community of Mannatech's top leaders are rewarded for their inspiring efforts to not only meet but exceed their goals – including leading others to achieve theirs.
IT was announced that our 2020 Achievers club Winners will be travelling to the unique and majestic Uluru, Northern Territory in March 2021.
Uluru and it's surrounds offer a truly magical environment, spiritual experiences, exciting activities and captivating culture. We have an amazing trip planned to celebrate your success and can't wait to share this experience with you.
Destination: ULURU
Travel Dates: Commencing 22nd March 2021
Included:
Accommodation at 'Sails of the Desert Resort', Five Star retreat.
Transfers to /from Airport and accommodation.
Themed 'Welcome Dinner' to remember…
Sunrise Breakfast Tour of Ayres Rock
'Sounds of Silence' Dinner
'Field of Lights 'Evening
A Special Recognition Dinner
Cultural Experiences
See the final 2020 Achievers Club Call recording below.
Look out for more details soon as we finalise our winners!