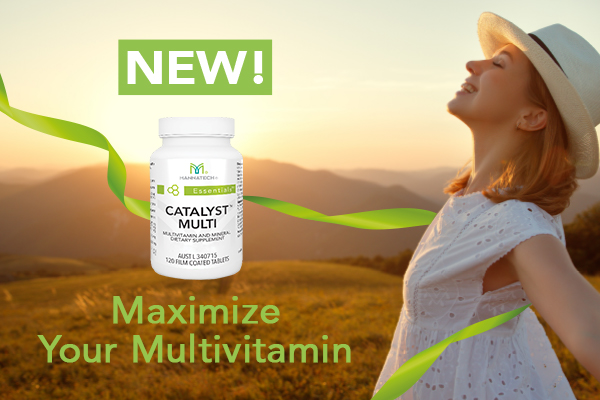 Essentials Catalyst Multi
Mannatech's Essentials Catalyst Multi combines the very best of nature and science, with plant-based nutrients and the very best of scientifically sourced ingredients. Packed with 29 vitamins, minerals, and nutrients, Essentials Catalyst Multivitamin will supercharge your health!
Order Essentials Catalyst Multi today!

NEW Essentials Catalyst Multi provides a powerhouse TGA Approved formula infused with Mannatech's proprietary glyconutrient technology and the powerful adaptogen, ashwagandha to provide both feelings of wellbeing and energy support.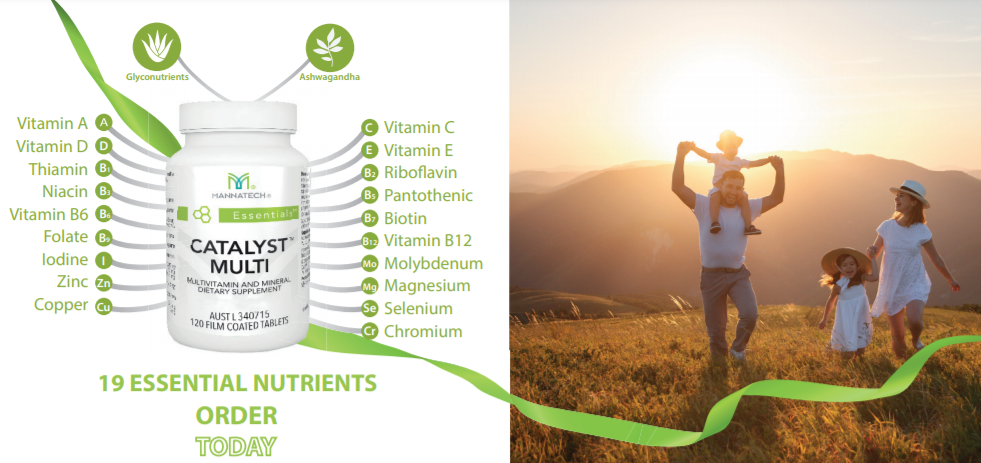 Benefits of Essentials Catalyst Multivitamin: (TGA Approved List)
Provides antioxidants (vitamins A, C and E) support
Reduces free radicals formed in the body
Supports body metabolism/metabolic rate
Supports energy production
Supports eye health
Supports healthy growth and development
Supports general health and wellbeing
Supports healthy body tissue
Maintains bone strength
Maintains gastrointestinal system health
Supports healthy immune system function
Maintains nervous system health
How does the NEW Essentials Catalyst Multi compare to the previous Catalyst formula?
Compared to the previous Catalyst, NEW Essentials Catalyst Multi not only contains more vitamin C, and more folate per serving, but it also offers 19 of these key elements at significant amounts. Sensoril® ashwagandha has been added to provide both feelings of well-being and energy support.*
Sensoril® is a patented strain of ashwagandha supported by 11 scientific studies designed to enhance adaptogen health benefits, support a balanced body and mind. One of the most powerful herbs in Ayurvedic healing, ashwagandha has been used widely since ancient times and is most well-known as an adaptogen with restorative properties. Adaptogens are natural substances that help the body to adapt to stress and exert a normalizing effect upon bodily processes. The use of ashwagandha may promote feelings of well-being and support energy production. It is frequently referred to as 'Indian Ginseng' because of its rejuvenating properties. See our FAQ Sheet for more information.*
Catalyst Multi Details
Available as a single product and also available in a brand new bundle just launched by Dr Nugent, called Dr Nugent Recommends….
Essentials Catalyst Multi (120 Capsules)
Associate Price: $70.50 AUD / $80.00 NZ / SING
PV: 48

Dr Nugent Recommends…Bundle
Discount: 25% Off for a limited time
Available: Mid November 2021 – 20th February 2022
Includes: 2 x Superfoods, 1 x Catalyst, 1 x Superfoods Brochure
Associate Price: $185.00 AUD / $195.00 NZ / $190.00 SING
PV: 188
Available for monthly subscription order (auto-order) or One-time order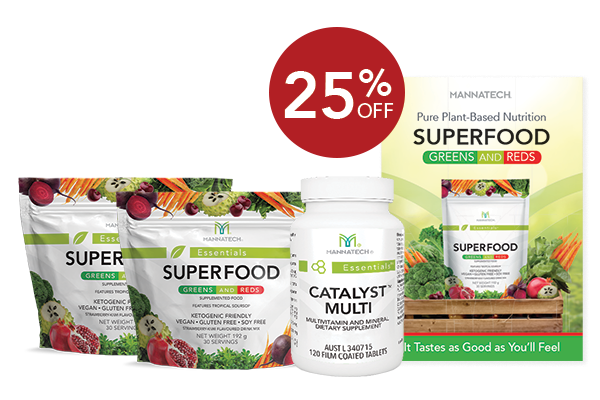 Resources:
Essentials Catalyst Multi Flyer
Essentials Catalyst Multi Product Description Sheet
Essentials Catalyst Multi Product Training Sheet
Essentials Catalyst Multi Supplement Facts
Essentials Catalyst Multi FAQ
Catalyst Multivitamin Launch Video
What are mineral Chelates? Video – coming soon!


*These statements have not been evaluated by the TGA. this product is not intended to diagnose, treat, cure or prevent any disease.