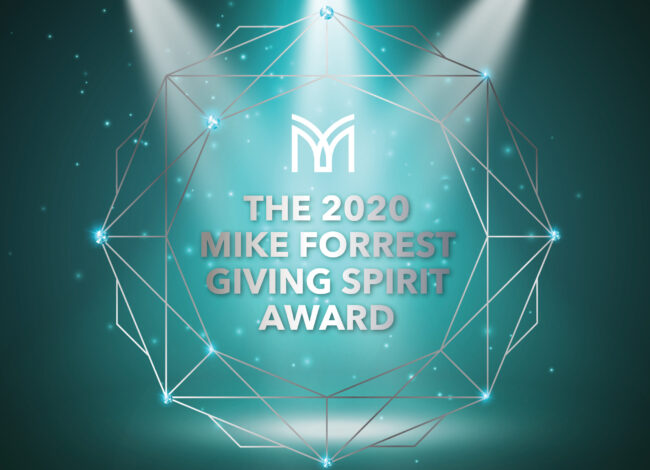 The 2020 Mike Forrest Giving Spirit Award – Nomination Closed
Nominations are now closed for the prestigious Mike Forrest Giving Spirit Award for 2020.
The 2020 Mike Forrest Giving Spirit Award
Is there someone within the Mannatech community who you believe embodies the values of Mannatech while living its mission of enriching the quality of life; Someone who focuses on the benefit of Mannatech to others rather than the benefit to themselves?
You can nominate them for the Mike Forrest Giving Spirit Award!
Mike was known throughout Mannatech as a generous leader with good humour, compassion and loyalty to his mates and the company. He was and continues to be, an inspiration.
If you would like to nominate someone who you feel is deserving of this award, click here and fill out the online nomination form. Your vote will count towards getting the right person the recognition they deserve! Nominations close 29th November.
"My greatest motivation has been to observe the joy and satisfaction others feel in their own personal success and Breakthroughs. Assisting others to
find their voice and their power and standing strong in
their integrity to create a better life.
Why the Mike Forrest Giving Spirit Award is so important
This prestigious award is in honour of Mike Forrest, an inspirational founding business leader at Mannatech, who's mission and efforts are still recognised today. Mike was known throughout Mannatech as a generous and passionate leader with good humour, compassion and loyalty to his friends and the company.
The Mike Forrest Giving Spirit Award is more than just an award. It celebrates those who have the ability to make others shine even brighter and reach even further than they could have ever believed.
The award recognises associates who display the exemplary values, hopes and mission of Mike Forrest.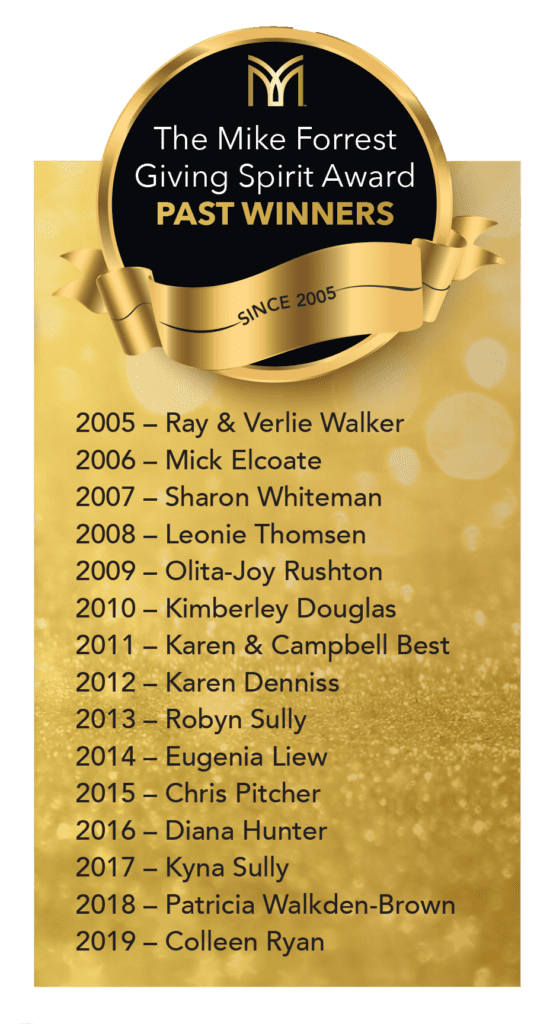 There has now been 15 'Giving Spirit' Associates recognised with this award, each of those individuals exemplified the generosity of spirit, giving above and beyond in supporting the positive culture and values of the Mannatech community.
Mike Forrest's special connection to Mannatech
Mike and his wife Maureen came to Mannatech after their business was in trouble and were facing devastating loss and massive change in their lives. "We were in our 50s and found ourselves with no home, no job, and almost no money" said Maureen. With the support of friends and family they stabilised their home situation and knew they had a choice 'feel sorry for themselves or start over'. It was at this time they were introduced to Mannatech.
In October 1998, Michael was approached to take a look at Mannatech which was about to launch into Australia. They did some research into the products and the business opportunity. Michael was particularly impressed with the sports products as he was an active sportsperson.
The validation from the USA track & field team who wanted to take the products prior to the 2000 Olympic games unendorsed sold him on the power of the products.
Maureen said, "We learned the basics of network marketing, how the business plan worked and decided to give it a go. Michael always approached life and any challenges with energy, passion and enthusiasm."
In 2004, Mike left our world leaving a gaping hole in the heart of the Australasian Mannatech community. In 2005 the inaugural and aptly named, Mike Forrest Giving Spirit Award, was born.
One of Mike's famous sayings was 'this is not for the chosen few but for the few that choose' and choose he did. He was one of Australasia's first road warriors and embraced the entire community as his own.
The other gift that Mike bestowed on others, was to see more in them than they could see in themselves, thus uplifting them to their greater potential.