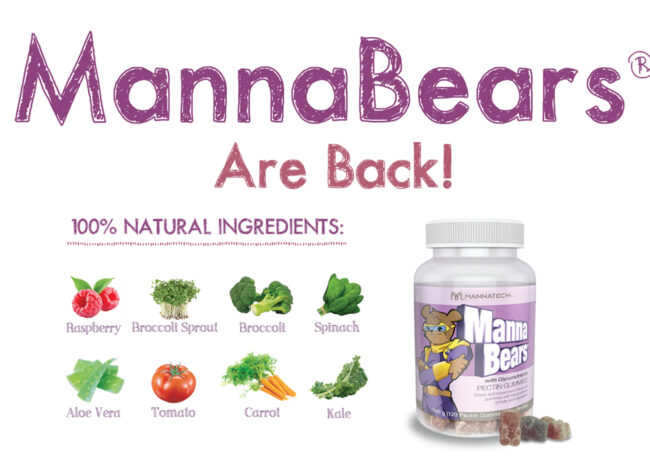 The gummy you have always loved has returned in all its delicious glory with new flavours!
MannaBears is one of Mannatech's most beloved and popular products. Why? Because they are healthy, cute, and yum! It's no wonder that both kids and adults love them.
MannaBears™ are tasty, fruity, chewy, bear-shaped gummies designed to not only be delicious but also to provide a natural source of Glyconutrients. Now available in grape and mixed berry flavour.
100% Natural Ingredients – No Nasties…
It's not new to parents that kids go for taste and not necessarily nutrition. MannaBears gummies are naturally sweetened, taste delicious and support good health during the critical growing years. They contain fruit, and vegetables – broccoli, carrot, kale, tomato, spinach, raspberry, and amla. Naturally sweetened with tapioca, xylitol and cane sugar.
MannaBears are free of peanuts, tree nuts, eggs, soy, dairy, shellfish, and wheat. This means they are vegan and non-GMO. We recommend four MannaBear gummies daily for children aged 4 and older.
MannaBears has also undergone a price increase. See new prices listed below. We will be releasing two months of backorders week commencing 21st December (at original price), with any new orders placed from Friday 18th December (at the new price), being released after this is complete. With Christmas shipping hours in the mix, you can place your order, however, please remember that there may be delays with receiving your order due to the delayed despatch and holiday period shipping times.
MannaBears 300g (120 gummies)
Associate Price:
$34.99 AUD / SING
PV: 30

$38.99 NZD
PV: 33

Retail Price:
$40.24 AUD
$41.75 SING
$45.00 NZD
MannaBears resources
Make sure you download and read all the new material available to you in the library. Now with a new price and new PV, order now!

MannaBears Product Description Page
MannaBears FAQ
*These statements have not been evaluated by the Therapeutic Goods Administration. This product is not intended to diagnose, treat, cure or prevent any disease.