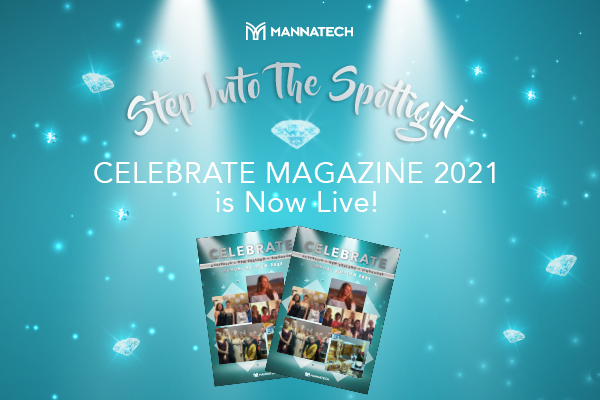 The Celebrate Magazine is here!
The 2021 Celebrate Magazine is Here!
We are thrilled to launch your 2021 edition of the Celebrate Magazine.

This magazine is dedicated to recognising our annual Award Winners and celebrating their ongoing hard work and dedication to building their Mannatech Business, creating greater awareness of the Mannatech opportunity and impacting on the health, wellness and financial circumstances of many.
Our 2020 Award Winners will share with you their personal story, their WHY, how they have worked to get to where they are today and achieving these accolades. Each also sharing some of the best advice they can give to you. Will it be you next year?

You'll also hear special messages from Regional President EMEAA, Central & South America, Chris Simons & Executive Director of Australasia, Jenny Messenger.

We celebrate even more achievements with our special 2020 Conference Awards and recognising Leadership Rank Up from January – December, 2020.

We have much to be excited about so join us in celebrating those that make Mannatech what it is!
Download the 2021 Celebrate Magazine and join us in the celebration of all our 2020 achievers.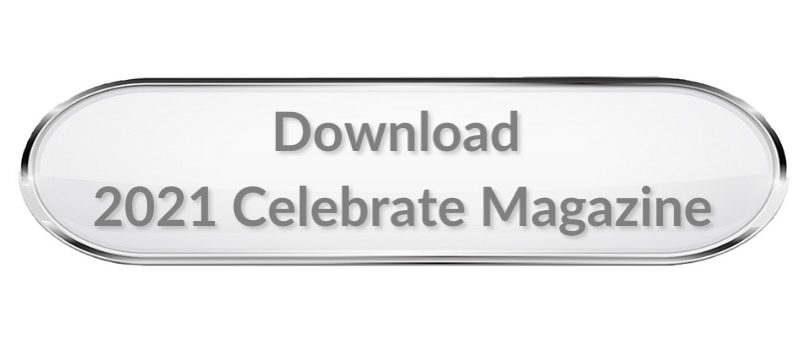 Download the individual recognition pages of each of the 2020 Award Winners
2021 Celebrate Magazine Naomi Joy
2021 Celebrate Magazine Paula Khouri
2021 Celebrate Magazine Lizanne Du Plessis
2021 Celebrate Magazine Vincent Kusumo
2021 Celebrate Magazine Jeremy Mauli

---
The 2021 Australasian Conference Recap – a year no one expected
It is safe to say that 2020, in many ways, proved to be a year of rethinking and reimagining everything we usually do, and the 2021 Australasian Conference was no different.

The 2021 Event was the first Australasian Conference to have ever been done entirely online! With the support and belief of our Associates, and a "can do" mentality from our team behind the scenes, we managed to successfully celebrate our 2020 Award Winners and make it a conference to remember.
If you missed it, join us as we wrap up the conference and all its highlights!
Here is a little sneak peak at what it looked like on our side of the screen.
Keynote Speakers & Training
Jenny Messenger, Executive Director, hosted the conference and the many key speakers we had the privilege of hearing from. Despite the border restrictions and severe storms causing power outages in Dallas Texas, we were lucky to have Chris Simons, Regional President EMEAA, Central and South America with us via live stream on Friday, Saturday and Sunday.
Keith Abraham was a familiar face to our Leaders who participated in the 2020 MBA Leadership Weekend in August. Keith gave an inspiring and well-delivered training with time-tested processes on:
How to become the best version of you
Personal and professional goal setting
Identifying your life purpose.
With the help of your "Step Into the Spotlight' Guide, it was a very interactive session that gave valuable advice on driving key & consistent behaviours to help achieve your goals and overall greater success personally & professionally.
Turia Pitt – Wow! With an inspiring story like no other. Turia shared with us her life before and after surviving a horrific fire that left her with burns to 65 percent of her body and two grueling years of recovery. Using her tragic story, she put life and its challenges into perspective for us. She inspired us with important learnings and the life skills she has used to get through her hardest days – owning your bad days and shared key tools to help move through negative moments in our lives. She also talked about the importance of persistence, courage, and consistency. A keynote we'll never forget.
We were incredibly lucky to have with us in the studio, Gillian Stapleton, CEO of Direct Selling Australia. Gillian gave us an insight into new and exciting measures to come in 2021, the benefits of being part of the Direct Selling Association and shared with us why it is such an exciting time to be in the Direct Selling Industry.
Presidential Leaders from the Field
2019 Associate of the Year, nominee for 2020 Business Builder of the Year, and Silver Presidential Director, James Hannan, shared his personal journey of how he started at Mannatech. He also spoke on the importance of being supported and encouraged to work towards and reach his Leadership goals. He has received many esteemed accolades, changed his life, and in the process helped his team do exactly the same thing. James gave us a powerful talk on the effort and work ethic required to get to Presidential Director and beyond. Additional, James shared the sense of achievement he feels from helping others change their lives also. View James' segment here
2019 & 2020 Top Enroller Associate and Customer, 2020 Business Builder of the Year, and Presidential Director, Naomi Joy led us into our 'Rags to Riches' Friday night event by sharing her personal rags to riches success story. Naomi reminded us, that no matter what your situation is, anyone can build and be successful in this business. Her main point was that you just have to get started. The rewards come, not only in the success you create and the income you earn but also in the positive impact you can have on the lives of others. View Naomi's segment here
Nominee for 2020 Business Builder of the Year and Bronze Presidential Director, Judy Abbott took us on a Customer/Associate journey, sharing the lessons she has learned about the importance of good customer service. She shared how providing a positive experience from the first interaction and throughout the customer journey was equally important. How positive experiences impact Associates, and being able to build successful teams. Judy delivered many pearls of wisdom in this interactive Q&A session with Executive Director, Jenny Messenger.
View the speech
Speakers From the Field
What an amazing group of Field Speakers we had the opportunity to listen to and each sharing their unique stories and tips for success.
2019 Mike Forrest Giving Spirit Award Winner and Highest Level Achieved, Gold Executive Director, Colleen Ryan, talked about the thrill of winning this award in 2019 and just how special this peer-nominated recognition was. She also shared what it means to have a 'giving spirit' in your work and in life in general, something that she lives by on a daily basis. View Colleen's segment here
2020 Top Silver Executive Director, 2019 Top Executive Director, 2019 Rising Star of the Year, and Highest Level Achieved, Silver Executive Director, Bronwyn Sheraton-Gray, shared important lessons she has learned in her Mannatech career so far. She emphasised the importance of continual learning. Moreover, she shared tips on how to successfully use and share product samples with potential Customers and Associates. Her takeaways – be open to learning & become the real you. View Bronwyn's segment here
Highest Level Achieved Executive Director, Sue Price, spoke about the importance of recognising your own strengths and by doing so, how you can grow from this. She encouraged us to spend time on personal development, mindset and always making time for training. Sue rarely misses a Mannatech training call.
View Sue's segment here
Highest Level Achieved, Gold Executive Director, Diana Hunter, shared her experience over the last 20+ years of having effective initial conversations with new Customers or Associates. The main focus being on Mannatech's nutritional technologies. She walked us through some great tips on how to build skills and confidence around inviting people to take a look at the value we have to offer. One of the big keys takeaways – listening. View Diana's segment here
Highest Level Achieved, Gold Executive Director, Sandra Spence, otherwise known on Facebook as the 'Groovy Granny Entrepreneur' gave us her insight into adapting to change and moving with the times. She inspired us with her personal journey of overcoming her fear and lack of comfort with technology, particularly social media. We must not only learn, but embrace this change and build a successful business online. No matter what your age or comfort level, you too can build an online business on social media. View Sandra's segment here
Highest Level Achieved, Gold Executive Director, Paula Khouri, & Highest Level Achieved, Silver Director, Gabriela Bassanino. This dynamic duo gave us an insight into how they build their business via Facebook pages. As examples we learned about 'Rise Mummy Entrepreneurs' and their goal of helping mums of all ages live a happy, healthy & balanced lifestyle. They shared how to identify their audience and regularly work on valuable content. This content includes tips on health, wellness, mindset and how others can build their own business. The key is also knowing how often and when to share information. View Gabriella's and Paula's segment here
Highest Level Achieved, Executive Director, Karen Stacey, inspired us with her personal story of why she made the decision to work towards the Incentive Trip. After more than 5 years since Karen had worked for a trip, she bravely stepped into her 'uncomfortable zone', did what was necessary to understand the incentive and what she needed to do from the very beginning. Not only did she achieve the trip but it allowed her to build her business from Silver Director to Executive Director. Her key takeaway was highlighting how important it is to clearly understand the Incentive as she herself nearly missed out, realising last minute she had misunderstood one detail of the Incentive. View Karen Stacey's segment here
Highest Level Achieved, Silver Executive Director, Sharon Hammond, hasn't missed an incentive Trip in 8 years and shared some of her favourite memories and trip destinations. She walked us through her process, her mindset, where she starts in her planning, and why she works towards the Incentive Trip every single year. Sharon just returned from the 2020 Travel Incentive Trip to Uluru, another amazing experience as part of her Mannatech Business. View Sharon's segment here
We thank you all for your unique, valuable and inspirational contribution to the 2021 Conference.
You can find all of our Field Speaker segments on the training page
The M5M Foundation Update
The M5M Foundation has become an important and ongoing part of all Mannatech Australasia Events, and the 2021 Conference was no exception.
We had the pleasure of hearing from the M5M Foundations Executive Director, Sarah Louthan, reflecting on the challenges & successes of 2020. View the speech
Following a recap of 2020, Marketing Director, Sarah Wardrop announced the new 'Australasian exclusive' M5M wristband.
By purchasing this beautiful M5M Wristband you are helping children in need of a nutritious meal & by wearing it, show your support to others.
Buy the M5M band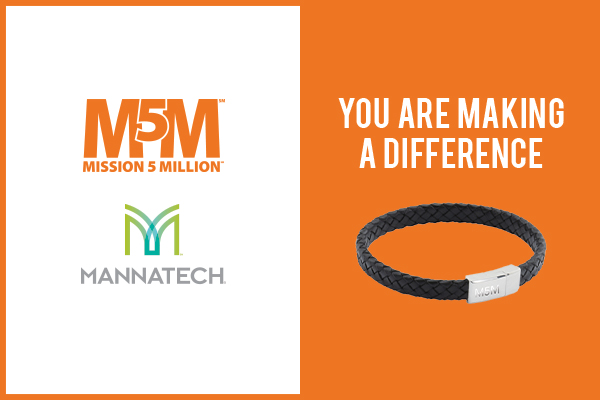 Giveaways
As always, we had MANY giveaways, lucky draws and registration prize winners this year. With so many prizes, we are still getting these prizes out to you. Please bear with us, they'll be with you shortly.
2021 Australasian Conference Gala Award Evening
It would not be an Australasian Conference without our prestigious Gala Awards Evening. And the 2021 Conference did not disappoint.
The qualification period for all awards was 1st January to 31st December 2020.
Whilst it looked a little different this year, it was great to see many groups get together to watch the event as we announced and recognised all of our deserving 2020 Gala Award Winners. We also managed to get a few personal deliveries. To make it more special, we had the pleasure of capturing the moment these arrived through a live cross to some of our award winners. For those not with a group, we reached out via phone and through the wonders of technology, shared a couple of those conversations live.
2020 Gala Award Winners
It's the most prestigious awards of the year and a symbol of incredible achievements by those working hard in the field. Please join us in recognising and celebrating the winners of the:
Naomi Joy – Presidential Director

2020 Business Builder of The Year
2020 Top Enroller Associate
2020 Top Enroller Customer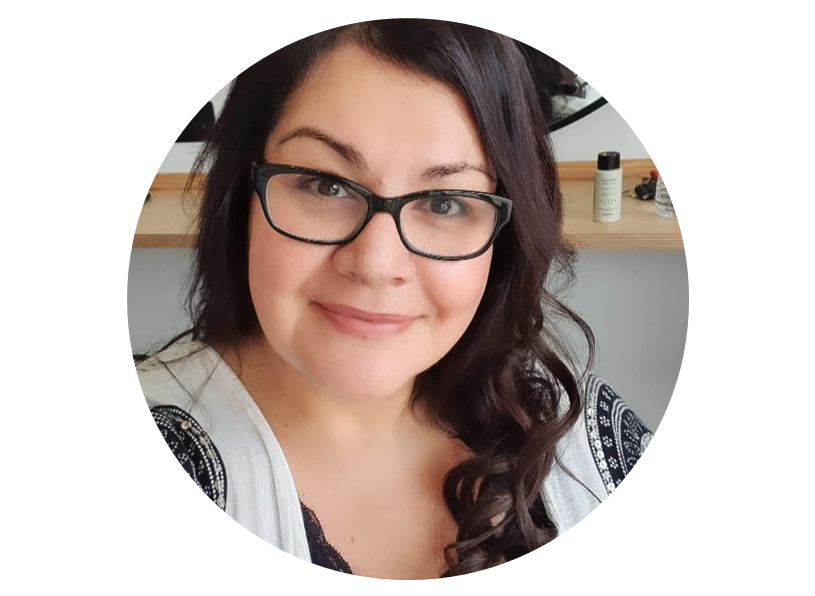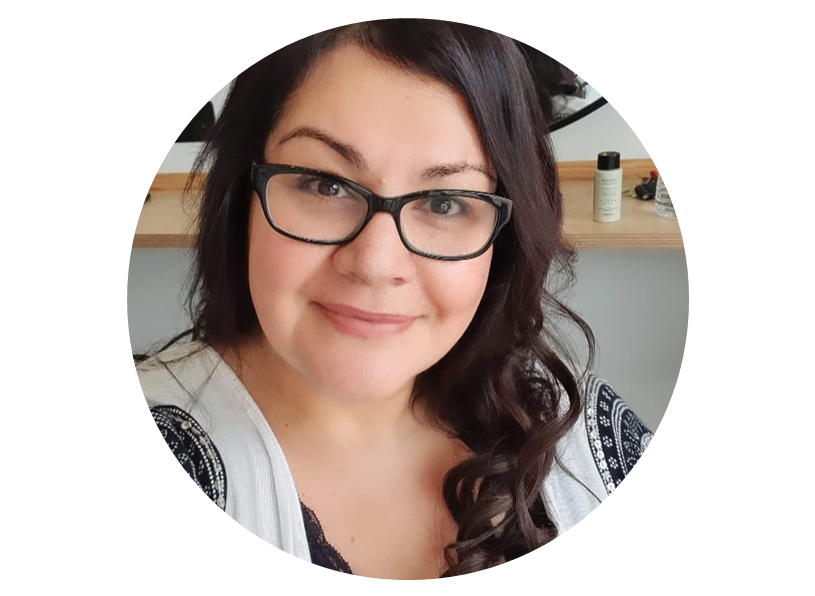 Paula Khouri – Gold Executive Director

2020 Mike Forrest Giving Spirit
2020 Top Gold Executive Director
Bronwyn Sheraton-Gray – Silver Executive Director
2020 Top Silver Executive Director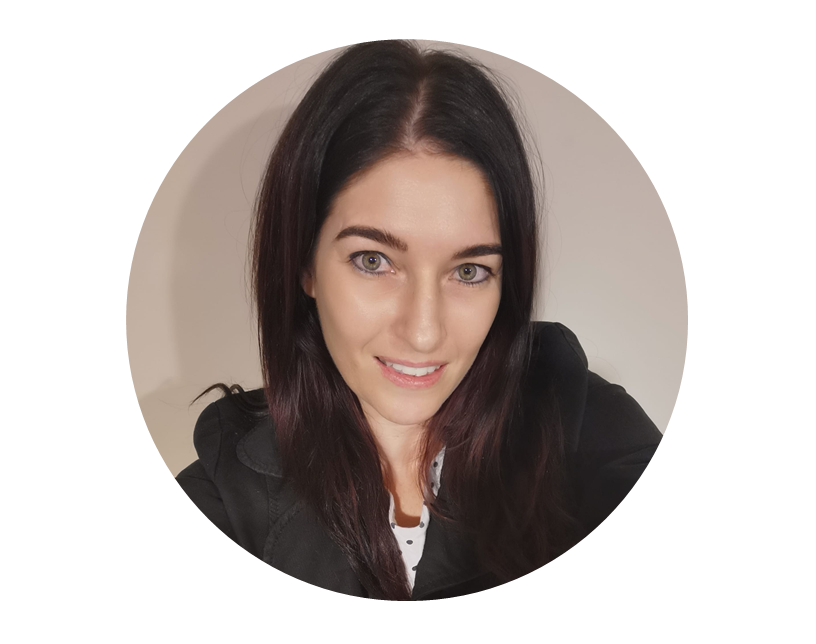 Lizanne Hattingh – Silver Executive Director
2020 Top Silver Executive Director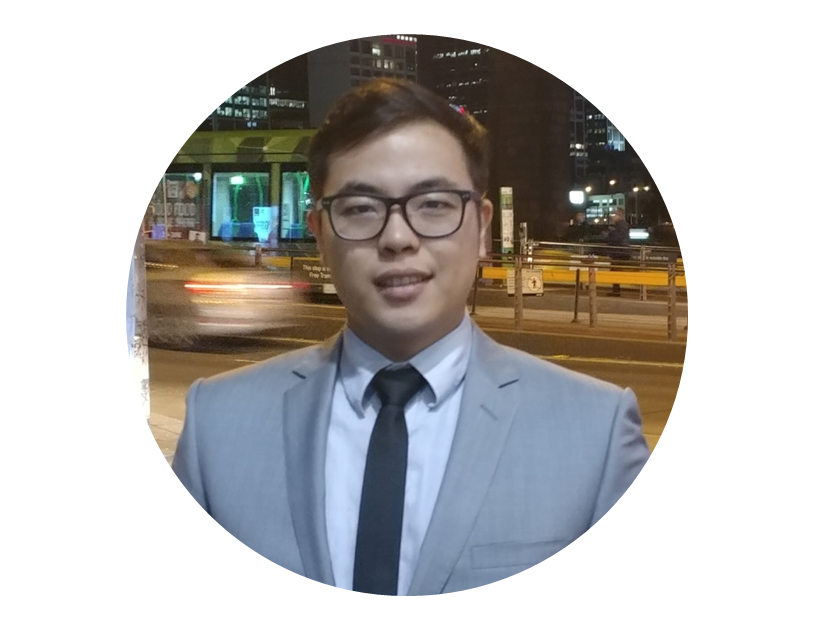 Vincent Kusumo – Executive Director
2020 Top Executive Director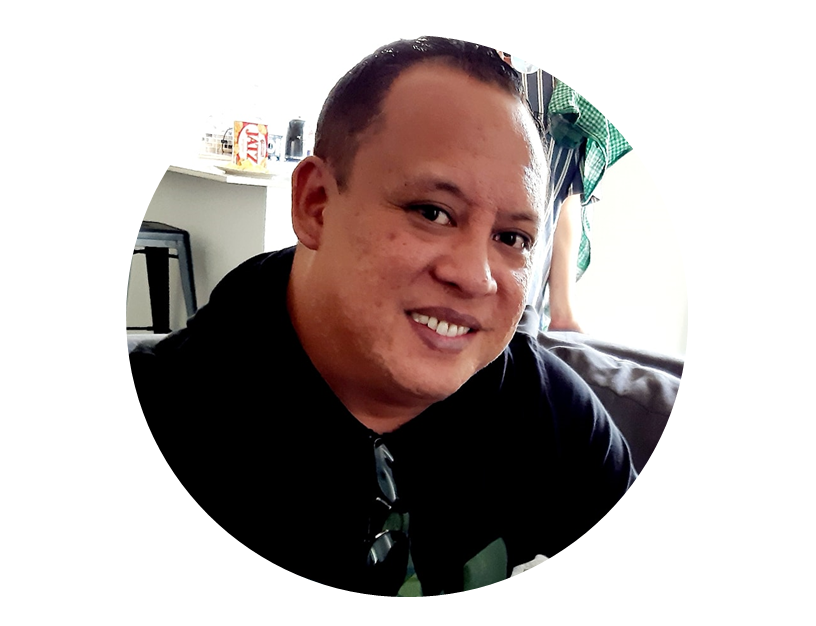 Jeremy Mauli – Silver Director
2020 Rising Star Of The Year
2020 Gala Awards Nominees
We also congratulate the following Nominees for the 2020 Gala Awards:

2020 Business Builder of the Year – Nominees
Bronze Presidential Director
Judy Abbot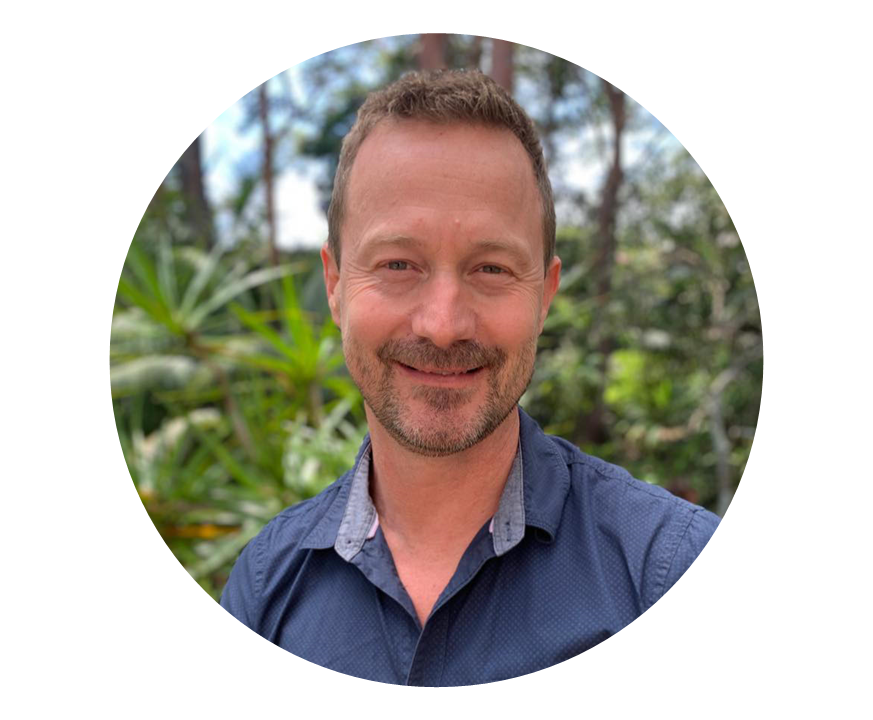 Silver Presidential Director
James Hannan
2020 Top Enroller Associate – Nominees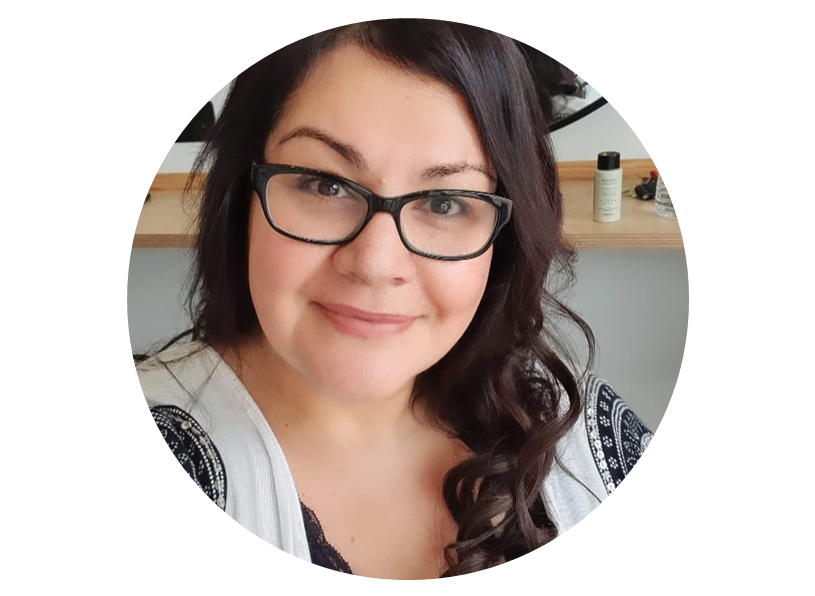 Gold Executive Director
Paula Khouri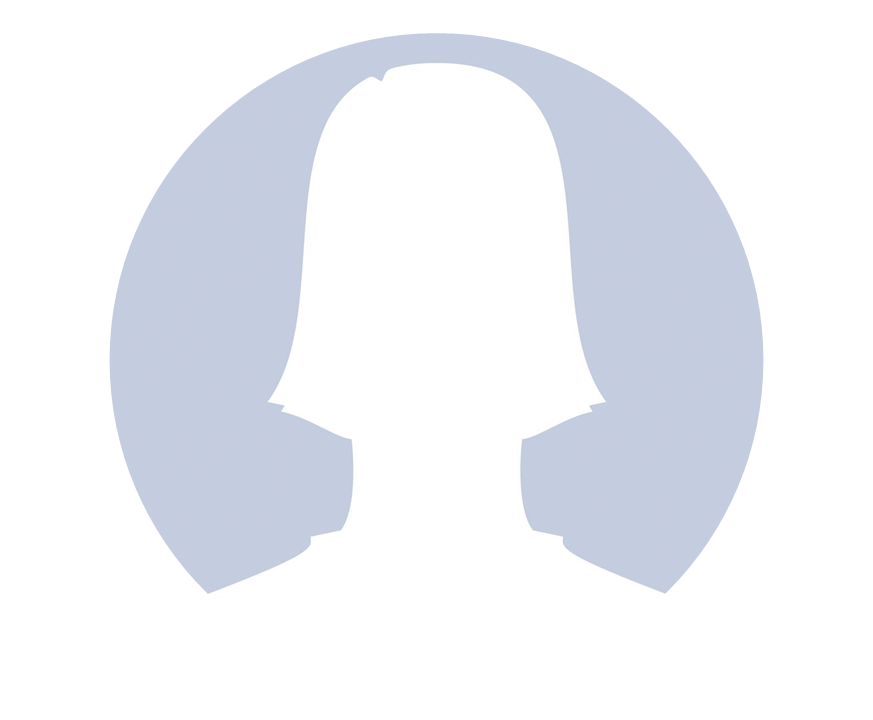 Executive Director
Dianne Trussell
2020 Top Enroller Customer – Nominees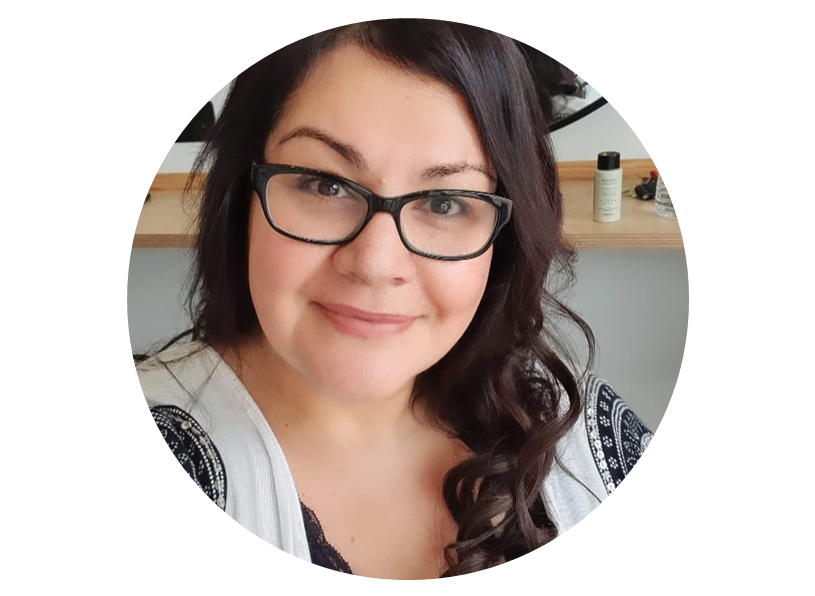 Gold Executive Director
Paula Khouri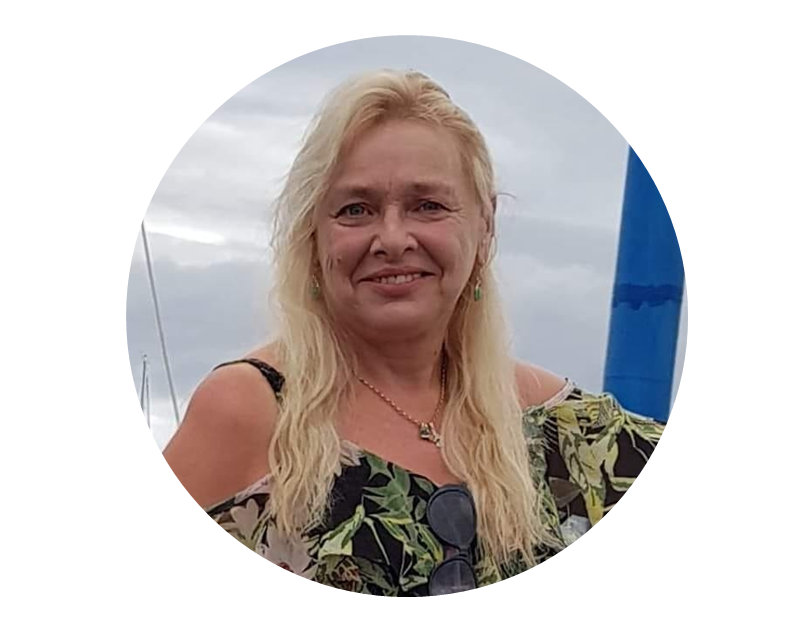 Executive Director
Harmina Yule
Exceptional Business Building Practice Award Winners

This year, while collating results for the awards, we noticed there were quite a few stand-out Associates. When we looked at those associates, they deserved a special mention, as every single associate enrolled throughout the year was done so on automatic order. This forms the basis of this special mention, and if done consistently over time, forms the basis of excellent business-building practice. Well done to these exceptional business builders……
Highest Level Achieved Bronze Presidential Director
Judy Abbot
Highest Level Achieved Gold Executive Director
Kristy Sapwell
Highest Level Achieved Silver Executive Director
Bronwyn Sheraton-Gray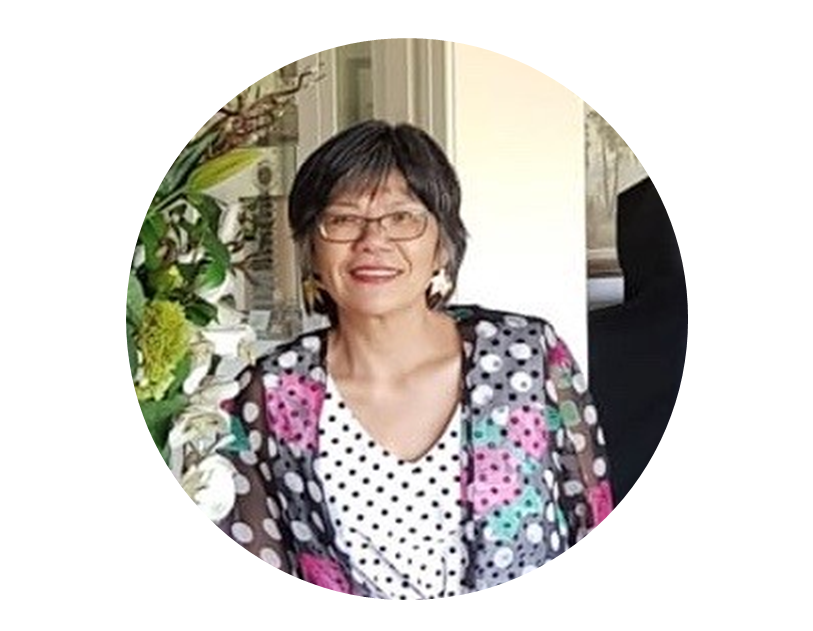 Highest Level Achieved Gold Director
Churnjit Wannasuntori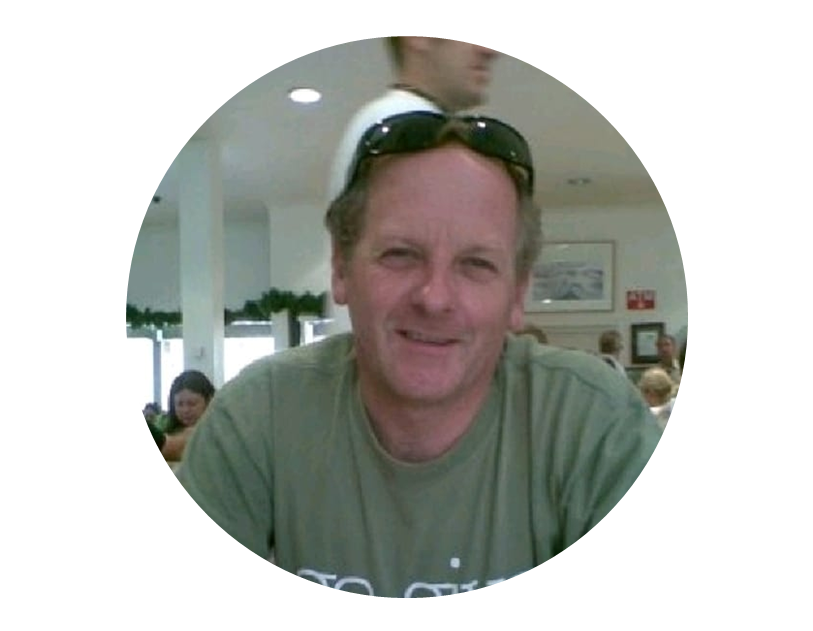 Highest Level Achieved Gold Executive Director
Colin & Dawn Bucknor
Fun Awards Winners
For the last two years now we have taken the opportunity to recognise more Associates with some special fun awards for effort and areas that may not always be seen. Congratulations to these winners recognised for: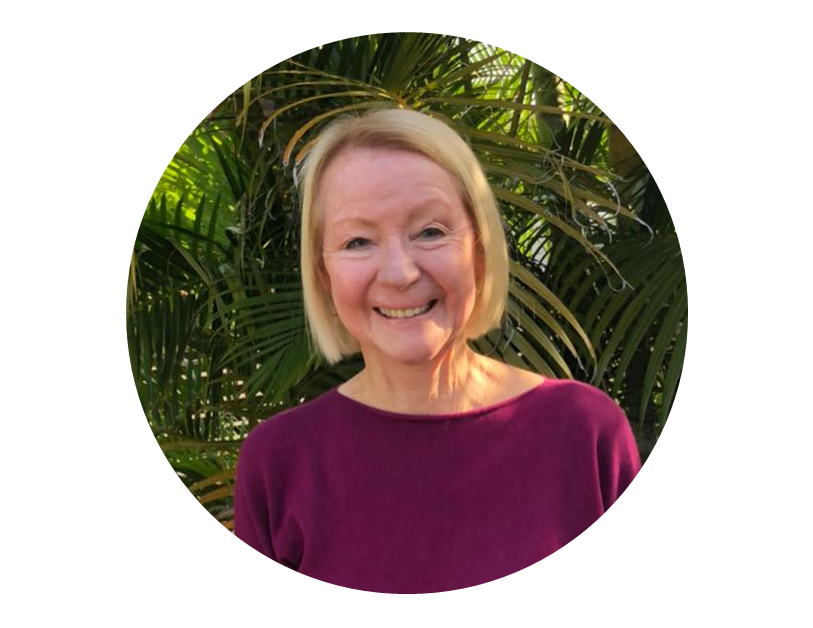 Stickability Award
Highest Level Achieved Executive Director
Sue Price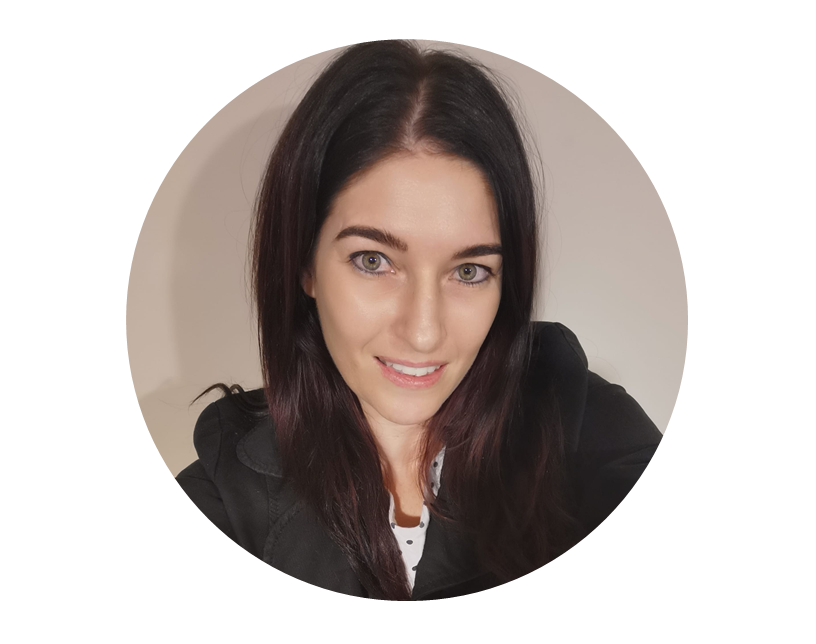 Film Star Award
Highest Level Achieved Silver Executive Director
Lizanne Hattingh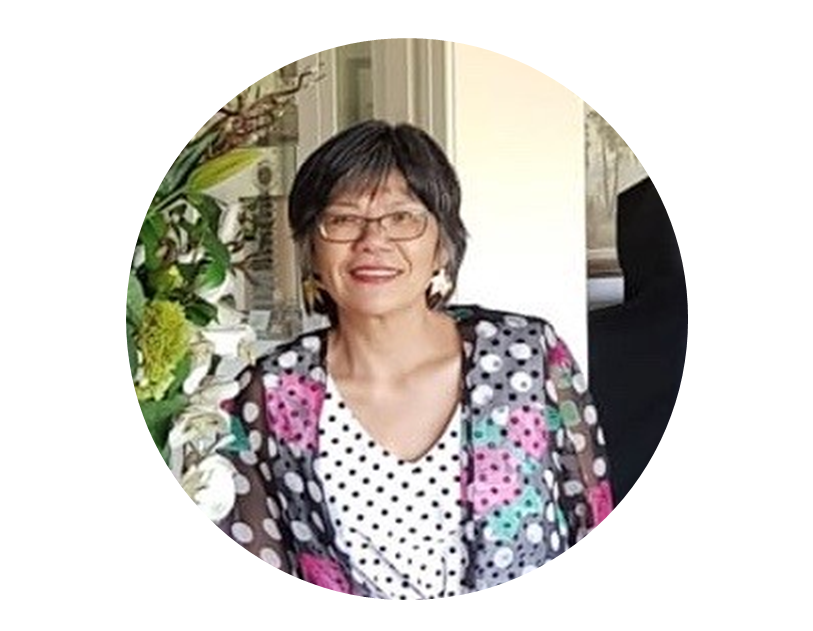 Quiet Achiever Award
Highest Level Achieved Gold Director
Churnjit Wannasuntori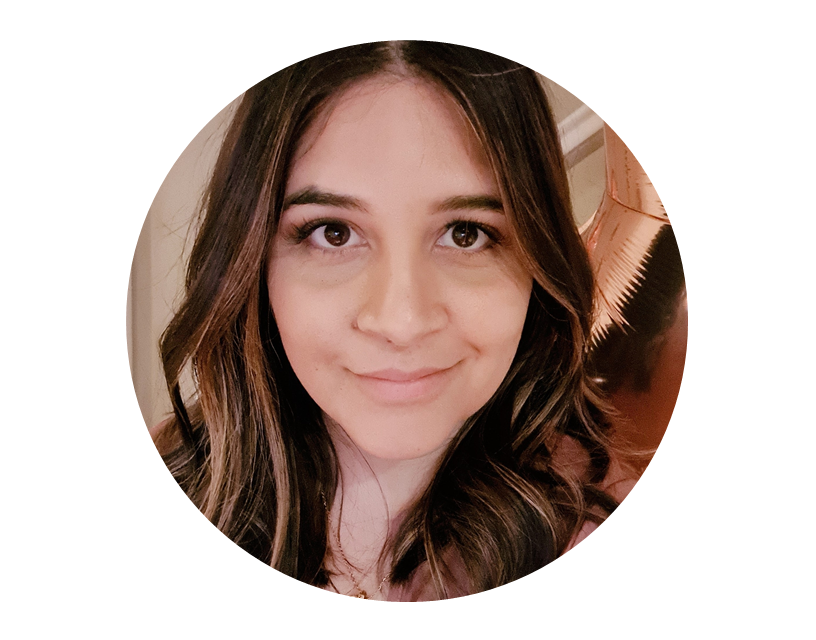 Dynamic Dynamo Award Highest Level Achieved Silver Director, Gabriela Bassanino
Congratulations again to all of our Award Winners for 2020! Please join us in celebrating their achievements on social media or when you meet them next.
As we close, we thank you all for making this virtual conference happen. Thank you for being a part of the event either as a Speaker, being part of a live cross, getting a group together & sharing this on social media or getting involved by dressing up. It made this 'virtual' event that much more enjoyable. We could not have done it without your involvement and support.
If you want to relive more of this event, or were unable to join, some additional segments from the event can be found here:
In the next few weeks, we will be finalising our annual 2021 Celebrate Magazine. Stay tuned for more information in the coming weeks about this exciting document.
We look forward to seeing you at the next Australasian Conference! in 2022!